Festive Christmas Trees for Kids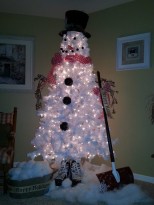 Christmas is such a fun time for children of all ages. I loved decorating trees so much that when I was married and living in a big house with my husband and kids we had 8! There was one in the foyer, living room, dining room, kitchen, family room, playroom, and one in each of my daughter's bedrooms. While I'm not suggesting that level of crazy on any of you, I guarantee your kids will love it if they have a festive tree to call their own. The snowman tree to the left is so easy to put together it would be no trouble at all! Simply start with a white tree, add some ornaments for the face and buttons, wrap 2 yards of ribbon for the scarf and place a black hat on top. The twig arms and shovel make a nice finishing touch.
This snowman tree is a bit more complicated, but could be a fun family activity to build. It isn't really a tree at all, but a series of balls wrapped in white batting (available at a fabric store) stacked between wreaths. You can use store bought balls, or make them yourself by stuffing newspapers into trash bags of descending sizes and then wrapping the bags in batting. Add some lights, ornaments, sticks for arms, and a hat and you're done!
If that snowman was more work than you have time for, this
Santa tree will be a much quicker process. All you need is two rolls of wide mesh ribbon in red to completely wrap the tree. Finish off with a wide black belt in the middle and a white feather boa at the bottom and top. If no one you know has that wide of a middle, you can use wide black ribbon and get a buckle from the fabric store. Additonal red ornaments are optional.
If your kids are fans of superheros, cover the tree with toys, trading cards, and masks that represent their favorites. A themed tree can be created from any favorite toys. I always tell parents to pick a theme and stick to it. It makes the process much simpler. 
This last tree is perfect for your child's bedroom. I like to string lights on the wall in the shape of a Christmas Tree.  It doesn't take up any floor space and can't be knocked over when they are playing. I anchor the corners using the Command Hooks that easily pull off the wall when the holidays are over. The added bonus of this tree is it serves as a comforting night light as they drift off to sleep.
Do you have a special tree you decorate just for the kids? Please share in the comments section below.
Barbara Green is the owner of Sensibly Chic Designs for Life and the host of Ask the Design Diva radio show. She believes you CAN have it all: kids, pets, and a beautiful home Her showroom is located at
830 Lamar Avenue and is open by appointment only. Please call 704-608-9424 to schedule your free consultation.