Feeling Feline as a 'CATS' Performer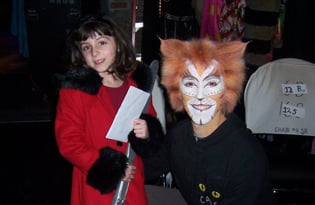 Actor Louie Napoleon, also known as Skimbleshanks in the Broadway musical CATS, shares what it's like to live the life of a feline, including the rigorous workouts, rehearsals and cat-like training.
The Broadway production tour is at Blumenthal Performing Arts Center May 24-29.
How do you train to  be a part of the show?
I studied musical theatre in college, at University at Buffalo where I received my Bachelor of Fine Arts degree in May of 2009.   trained in all three disciplines comprising the art form of musical theatre (acting, voice, dance) and that was probably my biggest training ground to date. After my third time auditioning for the show (third time's the charm!), I finally got it and that launched me into a four-week rehearsal process in New York. It was a rehearsal process like I'd never been through before because not only were we learning the music and blocking as in a standard musical, we also were learning an abundance of choreography which needed to be performed with precision, and all the while acting like a cat. A standard day of rehearsal would be made up of an in-depth dance warm up, felinity exercises (improvisational exercises as cats) led by our director, Richard Stafford, then we would learn pieces of the show and, over time, puzzle them together. We rehearsed for eight hours a day, six days a week. Starbucks and post-rehearsal protein shakes got me through those for weeks
How did you get started in theatre?
I had a knack for the theatrics and dramatics at a very young age (just ask my parents), but it wasn't until I was 12 or so that I began actually performing on stage. I do remember seeing my first musical production in the third grade, the classic – "Fiddler on the Roof." I was completely immersed in the world that was being created before me and the magic it was taking to do it. On my next day back at school, I decided I needed to be a part of that, and because my knowledge of theatre didn't extend beyond "Fiddler," I was going to be Tevye and I was adamantly going to direct, choreograph and cast my classmates in the show as well.
Somehow, I created a spark in the classroom and my teacher had to pull me, the youngest, scrawniest, least Jewish, Tevye aside to tell me that the production would not be possible. In retrospect, it sounds crushing, but I think it just made me want to pursue it even more. Many basement and backyard plays, musicals and movies later, I find myself where I am today, and couldn't be happier!
How long does it take to get into costume?
I'm actually notorious in the cast for "pushing the envelope" with how long it takes me to get ready! The most intricate part of the transformation is definitely the make-up. My make-up can take anywhere from 20-40 minutes depending on what pre-show rehearsals I'm called in for, or how much of a fussy perfectionist I'm being (a trait I share with my alter-ego, Skimbleshanks).  Then, I go to our amazing wig master, Jimmy Goode, to have my wig securely pinned and taped on. After that, I'm just missing the Tony-winning costume which takes a minute or two to get into and then, I'm ready to go. In all, I like to start the process an hour and a half before the curtain time.
If you have two performances a day, do you stay "cat-like" all day?
No!  Some of my fellow cast mates do keep their full cat face on in between shows, but they are then unable to leave the theatre. I prefer to get out of make-up and back into my "Louie costume" and take a walk between shows. I find that this helps me feel like I'm actually doing two, separate shows as opposed to one, very long 12-hour performance as a cat.
Costumes and makeup aside, I do still find myself in subconscious cat-mode.  For instance, I will find myself sniffing like a cat, or sharply moving my neck at a sudden sound. The most embarrassing is when I forget that I actually have hands and fingers and paw at things, usually to point at something or in some direction.
What tips can you offer young aspiring actors and performers?
Don't ever give up on yourself or on your dreams! They are your dreams, so you must form them and care for them on your own, no one else can tell you what you will be happiest doing and what is right for you. And, remember that it's 2011, information is at your finger tips! It's a quickly and constantly changing art, and it's important to be up-to-date … be informed – even from a young age!
Do you have a pet cat?
I don't have a pet cat. My dad is very allergic, so I think that's why we never had one growing up. Now, on tour, I get to play with 20 something other cats on a nightly basis so the void is filled.