Feed Your Kids With Love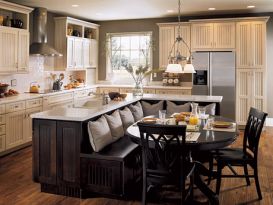 Studies show kids who dine with their families at home four to five times a week do better in school and have a lower incidence of smoking, drinking, and drug use. The meals can be simple, the important part is the togetherness.
Here are some tips for creating a dining space your family will look forward to eating at, no matter what is on the menu. 
1. Stress-free surfaces – Avoid stressing over the inevitable spills by purchasing seating with stain-repellent uphostery or solid wood seats.  
2. Bench seating – Banquettes are functional for family kitchens because of their flexibility and the added storage beneath. The kids love them becasue they feel like they are eating at their favorite diner. 


3. Counter Height Dining – Tables and chairs with a taller profile have a more relaxed and casual feel. They offer better positioning if you have a nice view out the window.  .
4. Lighting – Include ambient, task, and accent lighting, all on dimmers so you can control the brightness. 

It doesn't take a lot to create a warm and inviting dining spot for your family. When you consider the benefits it is well worth the effort. How frequently does your family have the opportunity to dine together? 
 Barbara Green believes you can have it all: kids, pets and a beautiful home. She is the owner of Sensibly Chic Designs for Life and the host of Ask the Design Diva radio show, and insists you don't have to spend a million dollars to look like you did.