FAMILY TO KNOW: The DeBoers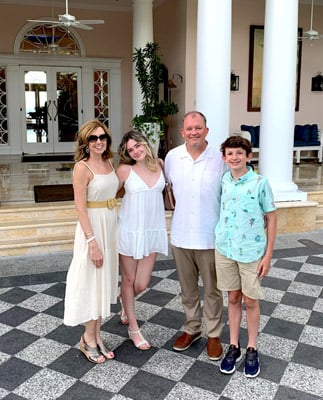 Meet Matt, Tammy, Olivia, and Chandler DeBoer. If they look familiar, you might have seen one of their faces on "Black-ish," "Shameless," "You," or "Jimmy Kimmel Live!" In 2019, this Charlotte-based family moved to Burbank, CA to chase their children's dreams of acting. They came for pilot season and booked multiple jobs—until the pandemic brought them home. Matt detailed the experience in a book called Until Tomorrow…Little People, which he released in June.
Today Chandler, 15, is a rising freshman at Charlotte Christian, and Olivia, 16, will be a junior at Liberty University. They continue to audition and take virtual acting classes, and both have several TV and film projects in the pipeline. We caught up with the family to find out what they learned from taking this big leap, and what projects we can expect from them in the future. (Ed. note: The kids go by Olivia Ragan and Chandler Dean professionally.)
When did you first catch the acting bug?
Olivia: We watched a lot of "iCarly" when we were little and started making movies. We reenacted whatever we saw, like, a movie at the theatre or Disney on Ice.
Matt: At age 6, Chandler asked if we could move to LA (laughs).
What happened next?
Matt: We went to California on a family vacation so the kids could see a show actually being taped.
Tammy: I got tickets to "Americas Funniest Home Videos," and we were chosen to be the All American Family where they put you right behind the winners, which guarantees TV time.
Matt: Later we were walking down Hollywood Boulevard, and Jimmy Kimmel's crew was outside and asked if they could interview our kids. So we said yes, then we went about our vacation and didn't think much of it. At the San Diego Zoo a few days later, we got a call that both kids made the cut and would air on "Jimmy Kimmel Live!" That's where it started, the kids seeing themselves on TV. Then Chandler put together a Powerpoint with all the reasons we should move to LA.
What did you do then?
Matt: We started local. They signed with Carolina Talent, which allowed them to do a talent showcase in Orlando. Chandler won a gold medal and Olivia won silver. It exposed them to agents. So we decided to give it a shot and spend three months in California for pilot season.
How'd that go?
Matt: They booked some local commercials. Chandler did "Austin & Ally." Then Olivia landed a part on "You." We ended up staying an extra month because Chandler was doing a short film.
What made you decide to move from Charlotte to Burbank in 2019?
Tammy: We wanted to see if the kids really want to pursue this and put in the work.
Did friends or family try to discourage you?
Chandler: Yes. It's not normal here at all. You play a sport, go to college, have a family. It was odd for a lot of people to hear.
How was the transition?
Tammy: We got an apartment for one year. It's different when you live it day in and day out. Fire season was scary to experience—we could see flames and smoke from the balcony. We lived through an earthquake. There was unbelievable traffic all the time. It was a really big adjustment, but there was always the thrill of an incredible audition.
How did the book come about?
Matt: When we were out there I started journaling and capturing the day-to-day. The book captures those first three months of pilot season. I turned the journal entries into a blog.
What's the story behind the book title?
Matt: I was actually the first paid actor in the family (laughs). I did a Toyota commercial that airs in Japan and a bank commercial in rural Ohio. So the tone of blog changed to, Now that I'm a famous actor…Everybody became my "little people," and at the end of every entry it was "until tomorrow…" It was a joke out my inflated sense of self worth.
How did the pandemic change things?
Matt: On set you're getting tested every week. They're very intense with procedures and safety protocols because there's so much money riding on a project.
Did acting come to a halt when you had to come home to Charlotte?
Tammy: The silver lining of the pandemic is it allowed them to do virtual auditions and not live in LA.
What has this experience taught you?
Tammy: It's taught us all to be adaptable. Now the kids are in a virtual acting class—the same classes they did in California.
Chandler: From March (2020) to January (2021), that period of absence showed me how much acting meant to me. I'm more dedicated now than I've ever been.
How's life back in Charlotte?
Olivia: We're still auditioning a lot, and trying to focus on school. I did a short film called "Healer" at the end of 2019, so I'm holding on strong with that one.
What's the best parenting advice you ever got?
Matt: Live life backwards. At the end of the day, it's a reflection back on the memories and the moments. Don't get so caught up in the day-to-day. Keep life in perspective. Keep what's really important at the forefront.
Tammy: You can't pursue acting if it's the parent's dream. It has to be the kids driving it. It's about their passion, not ours.
What's next for the DeBoer family?
Chandler: I just spent three months in Toronto shooting a movie called 8- Bit Christmas. It'll be on HBO Max around Thanksgiving.
Matt: It's with Neil Patrick Harris, June Diane Raphael, and Steve Zahn. He plays Timmy Keane who is like Biff in "Back to the Future."
Until Tomorrow…Little People is available through Amazon, Barnes & Noble, and Park Road Books. For more on the DeBoer family, visit www.untiltomorrowlp.com.