Family Health: Asthma, Concussions and Vitamin D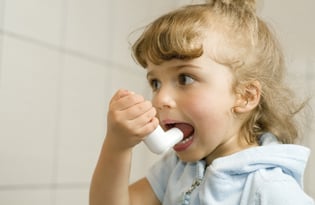 Asthma Symptoms Serious in Kids
Asthma is the leading cause of hospital visits and missed school days in children, according to the National Institute of Health. According to the Respiratory Health Association, more than 9.5 million U.S. children under age 18 are living with asthma.
"Asthma is generally characterized by excessive sensitivity of the lungs to various stimuli," says Michael Facktor, M.D., a pediatric allergy specialist at Geisinger Medical Center, which has multiple locations in Pennsylvania. "Because this condition is so prevalent in children, we encourage parents to look closely for warning signs of asthma. Your child may have more than just a persistent cough."
According to Facktor, common symptoms include difficulty breathing or rapid breaths, shortness of breath while resting or a persistent night cough. Warning signs of an acute asthma attack include difficulty breathing, sweating and rapid pulse.
Triggers that can cause asthma include allergens such as mold, pollen and dander; irritants such as air pollution or cigarette smoke; cold air or changes in the weather; and viral infections such as the common cold.
"When exposure to triggers causes symptoms to worsen, patients experience an asthma attack that comes on quickly with severe symptoms," says Faktor.
Boys, Girls Report Different Concussion Symptoms
Female athletes who sustain a concussion report different symptoms than their male counterparts, according to research performed at the University of Virginia's Curry School of Education.
In addition to headache, high-school girl athletes were more likely to complain of neurological symptoms such as sensitivity to light or sleeplessness. Their male peers, conversely, were more likely to report neurocognitive issues, such as loss of memory or balance control. There was no difference, however, in the students' recovery time.
Researchers evaluated 812 concussions from 100 different high schools. Of those, 610 occurred in males and 202 occurred in females. Though more boys suffered concussions overall, because fewer girls participate in contact sports, females had a higher rate of concussion.
There are more than 1.6 million sports-related concussions reported each year in the U.S. More than 5 percent of participants in high school contact sports are affected by concussions.
Vitamin D Plays Role in Prevention of RSV Infection in Infants
Respiratory syncytial virus (RSV) is the most important pathogen that causes lower respiratory tract infections in infants. A study in the June 2011 issue of Pediatrics finds that infants who are deficient in vitamin D at birth have a higher risk of developing RSV.
The study measured the concentration of 25-hydroxyvitamin D in the cord blood plasma of 156 newborns in the Netherlands. Researchers found that 54 percent of healthy newborns were born with insufficient vitamin D, and 12 percent developed RSV lower respiratory tract infections in the first year of life.
Infants with low concentrations of vitamin D had six times the risk of developing RSV infections compared to infants with the highest levels of vitamin D. Only 46 percent of women in the study reported using supplements that contained vitamin D during pregnancy.
Study Cautions About Feeding Dietary Botanical Supplements to Infants
A study by the Food and Drug Administration of infant-feeding practices found 9 percent of infants were given dietary botanical supplements and teas in their first year of life. The most common reason mothers fed supplements and teas to their infants were to help with fussiness, digestion, colic and relaxation. Although these parents fed their infants the products as a remedy, the products have not been evaluated by FDA to treat, cure, or prevent any disease. The study found mothers who fed their infants dietary botanical supplements and teas were more likely to have used such products themselves, and were more likely to breastfeed.
Kathy Sena is a freelance journalist specializing in health and parenting issues and is the mother of a 15-year-old son. Visit her blog at www.badballet.com.