Family Fun Places for Fall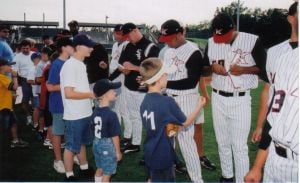 The kids are back to school and busy most every weekday. On weekends, they need a break and beg for creative ideas—something fun to do … indoors and outside. Here are a few kid-tested, family things to do this autumn in North Carolina.
Let's start at a castle! Castle McCulloch Gold Mill (Jamestown, www.castlemcculloch.com) to be exact. The fall winds lightly swirling past the leaded glass windows truly give it that medieval feeling. This restored gold refinery is constructed like an authentic medieval castle, complete with three-foot thick walls, a drawbridge, a moat and a 70-foot tower. The castle used to be a gold refinery factory. A knight in shining armor greets you as you move into the Queen's chamber to watch a video about the gold mines of the state. The castle also offers daily activities, including gold and gem panning, a visit to a modern rock quarry (looks like a high-tech Flintstones set) and historic gold mill tours. (Tours by appointment, fee activities on Sundays and festival weekends).
On October 27-28 follow the Wizard Of Oz Trail, where you will meet all your favorite characters as you follow the Yellow Brick Road. Bring your munchkins in costume as the grounds of Castle McCulloch are transformed into the mythical Land of Oz. This place definitely sparks curiosity and imagination!
Spend an afternoon at an Apple Festival. What a treat! Not only apples and cider, but also pie eating and apple peeling contests, apple butter making, parades and wagon rides out through the orchards. If you pay attention, you'll learn the secret of how apples stay "ripe" long after they've been picked. You can watch them make fresh cider, sink your teeth into a homemade caramel apple and enjoy a glass of fresh or mulled cider. Many historic and modern farms are open to visit each fall. (Admissions vary). The crisp air and crackling leaves will make this trip full of brisk color and sweet smells.
Brushy Mountain Apple Festival
North Wilkesboro – October 6
www.applefestival.net
Free. Arts and crafts, music and food.
336-984-3022
Hometown Apple Festival
Taylorsville — October 20
(828) 632-4451
Free. Arts and crafts, music, rides, food and Kids Korner.
Dreaming of the Great Pumpkin? Make your way to a pumpkin patch. Take a hayride out to the fields and pick your favorite pumpkin – right off the vine. Kiddie rides, pumpkin launchers and petting zoos are often part of the fun. You can add to the amusement getting lost in a corn maze. Cornfields and barns are converted into mazes and playlands with chutes and slides that add that fall touch to normal play. Some mazes are tricky and other paths are stroller accessible (or, at least kid-sized). Parents, be sure to remember your cameras. See our Calendar Spotlight for a list of local pumpkin farms and corn mazes.
Craving some adventure a little further down the road? Go to the Beaufort Historic Site (Beaufort, www.beauforthistoricsite.org). An important Colonial seaport, Beaufort preserves its colorful history with tours of a town characterized by white picket fences, a seaside boardwalk, and quaint shops. Patriots, privateers and pirates alike have visited the town's resident fishermen, boat builders, merchants and skilled craftsmen. Costumed guides narrate walking or double-decker bus tours of the town's narrow streets and historic buildings. You'll hear stories of pirates, sea captains, star-crossed lovers and Confederate spies.
Add in some Pirates at the NC Maritime Museum and Mystery Boat tours. Exhibits take visitors from dugout canoes to sail rigs to traders and the adventuresome pirates (even Blackbeard's flagship!). Search for buried treasure with a pirate on board the boat tours. Children receive a treasure map and their own treasure chest to take home. Children are often bored on tours of historic areas – but not when they can pretend they're a sailor or pirate while they play!
North Carolina is full of hundreds of kid-tested family events and attractions – you'll never run out of ideas this fall!
Michele Zavatsky is the Family Travel Mom with KidsLoveTravel.com and author of Kids Love North Carolina – A Family Travel Guide to Exploring "Kid-Tested" Places in North Carolina … Year Round, where you'll find details and personal kid-tested reviews on more than 600 places and events. To find out more, visit www.KidsLoveTravel.com.
SIDE BAR
Got Pork?
Looking for good family fun and soul-warming food? Head to Lexington Saturday, October 27 for the 24th Annual Barbecue Festival with 100,000+ other pork lovers from 8:30 a.m. to 6:00 p.m. Main Street in historic uptown will be transformed into a big celebration with a juried art and craft show, roving performers, entertainment, a large children's play area and lots of food – including finely-chopped barbecue sandwiches, hushpuppies and sweet iced tea. For festival information log onto www.barbecuefestival.com or call 336-956-1880. Take the train from Charlotte for an added thrill and save on gas. This special stop in Lexington only happens once a year, so call 1-800-USA-RAIL with the special code "LEX" for details, or log onto www.bytrain.org/passenger for more info.