Family-Friendly Holiday Activities Returning to Charlotte Next Month
From skating to Speedway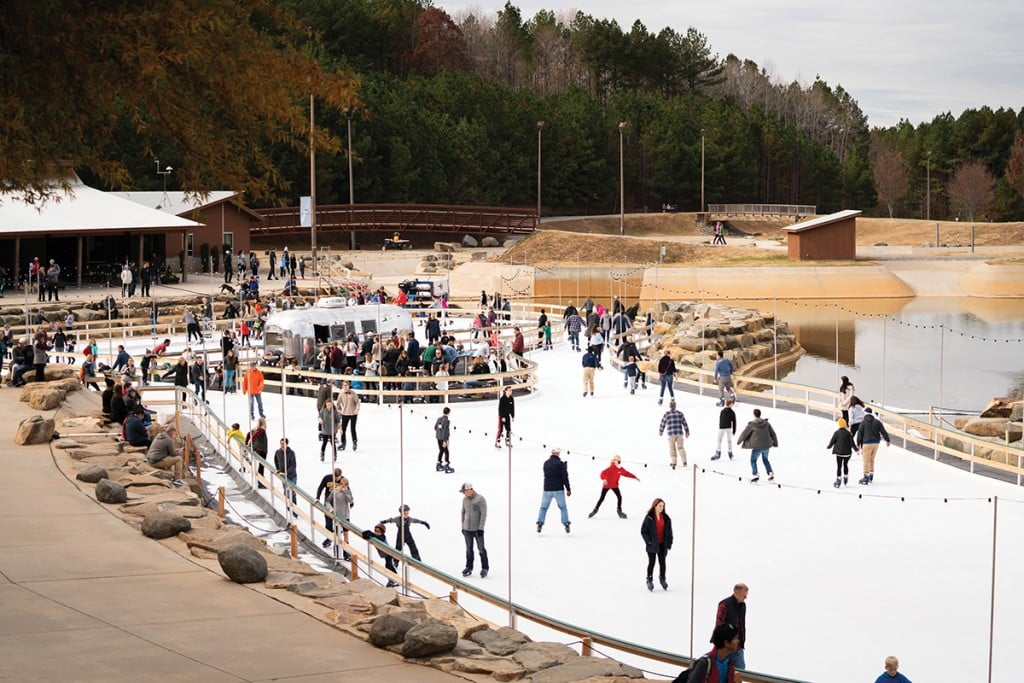 SOME EVENTS are understandably canceled for 2020 holiday season. But there are plenty of Christmas- and winter-themed activities across the region that are returning, with safety precautions amid COVID-19. Check out a few of those below:
---
Skating and Strolling at the Whitewater Center
November-February

THE U.S. NATIONAL WHITEWATER CENTER (5000 Whitewater Center Pkwy.) has been open at reduced capacity for the past several months, and its holiday attractions, which debuted in 2019, will return as well. Skate on the 17,000-square-foot upper pond and explore the ice trail beginning in November, and stop by the on-ice Airstream for cold and hot beverages.

The centerpiece of the Whitewater Center's holiday display is Lights, artist Meredith Connelly's light-based outdoor installation that runs along a half-mile of trails. "When I approached it, I was thinking about how I (am) when I hike. I don't look straight: I'm the person that stops and looks at the tiniest mushroom on the trail," Connelly told this magazine just before Lights opened last winter. "That's what I want other people to do in a way, is to look at all areas of the woods." Massive mushrooms appear in Lights, along with fantastical bulbous forms, nests, glowing roots, cocoons, and more. Lights is free; skating requires either a Single Activity Pass ($20) or an All Access Pass.

Here are three other ice skating rinks confirmed to open this season:
❄ HOLIDAY ON ICE, 400 E. Martin Luther King Jr. Blvd.
❄ WINTER WONDERLAND SOUTHPARK, 4400 Sharon Rd.
❄ EXTREME ICE CENTER, 4705 Indian Trail Fairview Rd., Indian Trail

---
Tweetsie Railroad in Service
Nov. 13-December

A TWO-HOUR DRIVE from Charlotte, Tweetsie Railroad (300 Tweetsie Railroad Ln., Blowing Rock) is more than just a train ride for your aspiring conductor: It's an enormous Wild West-themed park. The site offers a three-mile trek through the Appalachian Mountains, live shows, amusement rides, and more. Tweetsie has been in operation since 1957, and organizers say they plan to bring back its Christmas attractions, though with socially distant guidelines.The winter wonderland version of the park is $44 for adults, $38 for kids 3-12, and free for those 2 and under. Hours and days vary; check tweetsie.com for more info.

---
Speedway Christmas: By the Numbers
Nov. 21-Jan. 17

LIKE McADENVILLE, SPEEDWAY CHRISTMAS at Charlotte Motor Speedway (5555 Concord Pkwy. S., Concord) has the socially distanced benefit of being a drive-through event. Here are some figures for its 11th edition.

4 million: The number of lights around the 3.75-mile course
95,000: The seating capacity of the stadium on a non-COVID year
7,920 feet: The length of the Speed-way track that surrounds the displays
$25-$30: The price per car, depending on the day of the week
101.3 FM: The station to tune into while you're there to listen to the displays' accompanying Christmas music.

---
Holidays at the Garden at Daniel Stowe Botanical Garden

Beginning in late November
This gorgeous, sprawling display is returning to the Belmont garden. Organizers are currently in the planning stages, as the previously planned Chinese Lantern Festival had to be canceled due to the effects of COVID-19. Expect thousands upon thousands of lights throughout the garden, which comprises 380 acres on the banks of Lake Wylie.