Family Friendly and Fabulous in 5 Easy Steps!!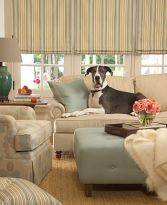 Does this photo strike fear in the depths of your soul? Would the light-colored sofa and chair keep you awake at night with visions of juice boxes, dirty paws, and wine spills dancing in your head? You don't have to wait for the kids to be gone, the dog to die, or the spouse to split in order to have a beautiul home. Here are 5 Easy Steps to take your home from frightful to fabulous:
Use outdoor fabrics for indoor upholstery. They are durable. stain resistant, fade resistant, and washable. They come in an array of colors and patterns to suit anyone's palette and style.
Use distressed finishes on wood pieces like tables and side chairs. If the kids (or dog or spouse) cause more damage, (oops,  I mean distressing) it just adds more character.
Use blinds or shades instead of drapes on the window to reduce your exposure to fabric damage. Roman shades are particularly well suited because they add color, pattern, and sun control while adding a touch of softness to the room.
Keep accessories to a minimum. Use large, bottom-heavy statement pieces that will add style and personality to the room without risking tipping or breakage. Family homes are not the place for delicate collectibles.
Use easy to clean flooring such as hardwoods, laminates, vinyl, and tile. Just like I recommend outdoor fabrics for furniture, outdoor area rugs work equally well indoors. If you prefer wall to wall carpet, select one of the collections that has a lifetime replacement warranty against stains, soil, and pet urine. Yes, they do exist and they are beautiful.
If you keep these 5 basic tips in mind when choosing your home's decor, you will not only love the way your room looks, but you will love how well it serves your family's needs. You have a fabulous family, don't you want your home to reflect that?
Barbara Green believes you can have it all: kids, pets and a beautiful home. She is the owner of Sensibly Chic Designs for Life and the host of Ask the Design Diva radio show, and insists you don't have to spend a million dollars to look like you did.