Family Dining: Tony's Ice Cream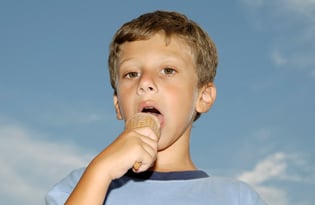 It's summer, and that means it's time for ice cream. Area natives know Tony's Ice Cream in Gastonia is the hopping spot after church and Little League games. Charlotte families often stop in after a visit to Daniel Stowe or the Schiele Museum.
The Coletta family started the business as Coletta Ice Cream Co. around 1915 off a pushcart and then delivering by horse and buggy. The eatery has been at its current location for more than 60 years, and the family continues to make the ice cream next door using fresh ingredients and real cream. Aluminum tables and red vinyl booths are the perfect no-fuss décor for this historic hallmark. Summer hours are Monday-Saturday, 7 a.m.-10 p.m., and Sunday, 10 a.m.-10 p.m. It's a happenin' place at lunchtime on Saturdays, so be sure to grab a table quick when one opens up. The grill menu includes such order-at-the-counter traditions as egg sandwiches, hash browns, biscuits, chicken tenders, sandwiches, hamburgers/hotdogs and barbecue.
We grabbed a quick lunch at Tony's on a recent warm Saturday afternoon. Our hunger pangs were satisfied – and so were our taste buds – with an all-the-way hotdog, a BLT sandwich and French fries. A friend and her daughter just went straight for the ice cream.
Milkshakes are a signature item at Tony's, so my husband opted to indulge in a creamy chocolate delight. My choice was made harder by the 28 ice cream flavors on the menu board. While some might like Almond Joy, Cherry Cheesecake, Grape or Lemon, I chose a mixture of Mint Chocolate Chip and Rocky Road for my single cone (a heaping serving of two large scoops). Sherbet, banana splits and hot fudge sundaes also are available. My friend dove into a hot fudge sundae, while her daughter enjoyed a waffle cone with strawberry ice cream. A large freezer stocks half-gallons of Tony's Ice Cream for takeout.
Tony's serves up a $1 Kiddle Cup for those 10 and younger on Tuesdays until 8 p.m. And, the store's website includes a Kids Page with links to coloring pages, games and contests.

THE CHOW DOWN
Tony's Ice Cream
604 E. Franklin Blvd., Gastonia
Dollar Deal: $1.50-$5.50
Décor/Atmosphere: Old-fashioned diner/snack bar
Amenities: High chairs and boosters
Got Milk/Juice: Yes
Phone: 704-867-7085
Website: http://tonysicecream.com