Family Dining: The King's Kitchen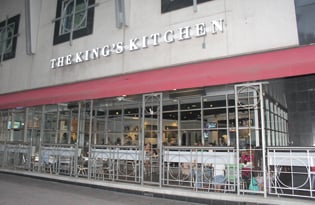 Meals for Mission
If you're in uptown Charlotte with the kids, be sure to stop in for lunch or dinner at The King's Kitchen, a nonprofit eatery, managed by chef and local restaurant owner Jim Nobles, that serves southern cuisine made with fresh, local ingredients. Proceeds go to feed the poor, and the restaurant partners with area ministries to provide employment opportunities to those who need a new beginning.
Beyond being an educational opportunity for school-age children, this spot can satisfy everyone's taste buds. For adult appetites, the menu isn't extensive, but the offerings – from Jimmy's fried oysters and the shrimp po' boy to pork spare ribs and pot roast – are a delicious throw back to Sunday suppers. The beer and wine list features a nice assortment, too.
Children enjoy a choice of a peanut butter-and-jelly sandwich, hot dog, chicken fingers or a chicken leg. All meals come with fries.
After a recent Saturday night with friends at The King's Kitchen, we highly recommend starting with the pimiento cheese-and-crackers plate or popping down the deviled eggs. After that, the shrimp po' boy and King's Burger are served with a salad or fries, but there's also eight Big Plate offerings, that include marinated fat iron steak, catfish (sautéed, blackened or fried), pan-seared salmon, Carolina shrimp and grits, Caesar salad, pork spare ribs, barbecue pulled pork and a Porterhouse pork chop.
The best value on the menu is the Meat-and-Three. Choose from Aunt Beaut's skillet fried chicken, pot roast or fried flounder, and add your sides. Narrowing it down to three sides is difficult, with such choices as butter beans, creamed potatoes with gravy, Rosa's fried green beans, pan-seared cabbage, roasted carrots and more. Let me tell you, the house specialty skillet fried chicken with carrots, cabbage and mashed potatoes will put your name in the clean-plate club for sure.
Be sure to save room for dessert, and seriously consider ordering several and sharing. The menu features eight tasty indulgences: banana pudding, chocolate pie, pecan pie, Pam's brownie, coconut chess pie, Aunt Esther's brown sugar pound cake, pineapple upside down cake and lemon pie.
It's easy to see why the very friendly staff and melt-in-your-mouth food keeps lots of customers coming back.
THE CHOW DOWN
The King's Kitchen, 129 W. Trade St.
Dollar Deal: $3-$18; Meat-and-Three $13-$14; kid's meals $5
Décor/Atmosphere: Airy, clean and modern
Amenities: High chairs, boosters and changing stations
Got Milk/Juice: Yes
Phone: 704-375-1990
www.kingskitchen.org
?