Family Dining: Pure Taqueria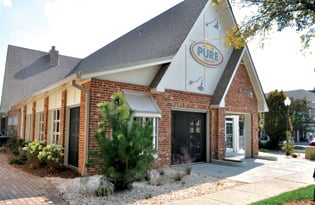 Pure Taqueria is a recent addition to historic Matthews. This is Pure's first venture into North Carolina with all of their other restaurants in Georgia. My wife and I, and our two boys, ages 14 and 11, went to Pure for dinner. The atmosphere is not authentic Mexican, and the first thing we noticed is the sound level of the restaurant. It is extremely loud! The music is cranked up, and with the open kitchen and bar area, it is almost impossible to have a conversation.
My boys order the chicken quesadillas and fish tacos, while my wife and I went for the enchiladas and chicken taquitos. In all, we agreed that the food was really good. From the chips and salsa to the entrees, everything tasted fresh and had good flavor. The portions were filling, which only left enough room for us to share a dessert. We order the Tres Leches Cake, which was a good end to the meal. The full menu is not overly expensive, especially for dinner, although the dinner and lunch menus are the same, so lunch may be on the higher end.
Pure does offer a children's menu for ages 10 and under that includes tacos and chicken fingers with nothing on it over $3.99. Drinks are separate, and they do not offer fountain drinks, so there are no refills.
In the end, I don't think that Pure Taqueria is the place to take the little ones. They accommodate children, but this is really not a child-friendly restaurant. It is just too loud in there. I did go back again just to make sure it was not a one-time deal and I also talked to neighbors who had gone before, and we all agreed that while the food and service are very good, the atmosphere just does not lend itself to families.
The Chow Down
Pure Taqueria
111 Matthews Station St., Matthews.
Dollar Deal: $8-$14
Décor/Atmosphere: Basic modern
Amenities: High chairs available
Got Milk/Juice: Juice
Phone: 704-841-7873
http://puretaqueria.com/matthews
> Read last month's restaurant review: Fern