Family Dining: A Sports Bar for All Ages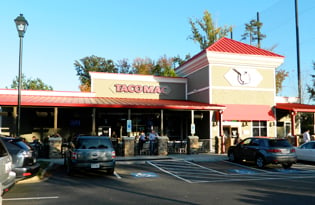 Taco Mac: A Sports Bar for All Ages
Since the restaurant Taco Mac opened up in Huntersville, I had been hearing stories about the typical long wait for a table, so on a recent Saturday evening I tried to arrive with my family before 6 p.m. We were fortunate that there was only a short wait at the time, and we chose to wait in an outdoor patio area that was equipped with heaters suspended from the ceiling and plenty of flat-screen televisions – something for which Taco Mac is well-known.
When our table was ready, the hostess led us into the bar area where we were seated at a high-top table. The kids marveled at the sheer number of televisions, which were tuned to every type of football game imaginable. Our server arrived promptly and we ordered chips and salsa, which were the perfectly flavorful and salty.
While waiting on our food, we observed the layout of the restaurant. Besides the expansive bar area, the main dining area is also large and roomy, with each booth having its own television. Just past the bar is a game room filled with enough arcade games to keep children occupied while waiting for a table or the food.
For the adults, Taco Mac boasts hundreds of different beers on tap, and the kids were equally pleased with the Coca-Coca freestyle, a selection of a hundred-plus beverage choices, including low-cal and no calorie options and kid favorites like Hi-C Strawberry, Cherry, Grape and Raspberry.
My husband, who has been wanting to experience the fish taco craze that has recently erupted in the area, ordered the Los Cabos Fish Tacos, which consisted of lightly blackened whitefish served in flour tortillas with pico de gallo, horseradish and lettuce. I ordered the Shrimp & Avocado Salad with black beans and feta cheese, which could have easily served two people, although there weren't enough shrimp on the dish to suit my appetite. We didn't try them at this visit, but friends and acquaintances have raved about Taco Mac's Signature Buffalo Wings that are available in seven different flavors, ranging from "lemon pepper rub" to "habanero barbecue," as well as the Nachos All the Way appetizer.
My daughter opted for a chicken soft taco served with cheese nachos, and my son was happy to choose his usual order of macaroni and cheese from the children's menu. Other item choices for kids include burgers, miniature corn dogs, quesadillas, chicken tenders, penne pasta and grilled cheese sandwiches.
While Taco Mac does cater to families, families should request to be seated in the main dining area instead of the bar area as the din can be a little boisterous for the smallest diners.
THE CHOW DOWN
Taco Mac, 8700 Sam Furr Road, Huntersville.
Dollar Deal: Appetizers, $2.99-$8.79; kid's menu, $4.25; entrees, $6.49-$11.59.
Décor/Atmosphere: Festive sports bar.
Amenities: No changing station in restroom.
Got Milk/Juice: No.
Phone: 704-897-1315.
www.tacomac.com
?