Family Cookout Recipes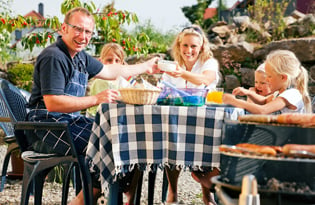 Summertime cookouts mean great family fare from the grill. While moms and dads need to be the ones cooking at the flame, kids can certainly help prep, serve and set up for the cookout, and enjoy the fun and the flavor.
Just a couple of dos and don'ts will yield great grilled results:
Don't place oil-laden foods on a hot grill as oil ignites and burns quickly. Marinate to your heart's content, but before placing food on a hot grill, pat it dry, and then cook. Vegetables and fruits grill perfectly fine without the addition of any oil. Just salt and pepper and place on a nonstick grill grid for perfect results.
Do grill chicken skin side up, boney side down first. This helps render the fat. By the time you turn the poultry, the fat has cooked down, affording less opportunity to flame up. If a piece does start to flame, just take it off the grill and get it out of the way. Do not douse it with water – you will just make a bigger mess.
Don't marinade raw meats in barbecue sauce. Sugar in the sauce burns on the grill long before the chicken, pork or beef is cooked inside.
Instead, salt and pepper your favorite cuts, and grill on each side over a low to medium flame to cook through and brown slightly. Then baste the top of each piece with sauce, close the lid of the grill and allow the sauce to cook for two to three minutes before you flip. Repeat with the other side. The result is tender, juicy – not charred – barbecued meats and poultry every time.
For fish, use the Canadian rule. That's 10 minutes of grilling time for every inch of thickness when you measure the fish fillet or steak at the thickest part. Make sure that the fish is not frozen when you start for best results. Turn the seafood once during the cooking process.
Do season beef and pork with a coarse-grind sea salt or Kosher salt to add flavor. Finer ground salts tend to dry out meats. Flipping burgers and steaks with a spatula or tongs instead of a fork helps to keep a moist, juicy texture as well.
Pat marinated beef, chicken or fish dry with several thicknesses of paper towels before grilling. A wet product does not brown evenly on the grill; instead, it steams.
Once marinated meat has begun to brown, you can continue to baste it with the marinade as you cook. Once the cooking is done, toss out any leftover marinade.
Finally, don't put cooked meat back into a marinade that once held raw meat – the result will be a bacteria heyday. Likewise, don't put the cooked product on the same serving platter that once held raw meat or fish.
Do use a clean serving plate to bring your grilled goods to the table.
This month, a zesty chicken sate takes the place of standard barbecue, but if your family likes something with more of a tomato base, substitute your favorite bottled sauce for the Asian-based marinade in the recipe that follows.
For dessert, who doesn't love a banana split with homemade ice cream? Putting the bananas on the grill adds a richer, toastier taste, plus it's fun to eat your own banana splits right out of the peel.
The ice cream recipe is for a basic vanilla. If you'd prefer to add another flavor, do it right before churning – fresh fruit, a half cup of strong coffee, chocolate chips or crumbled Oreos all work well.
To freeze the ice cream without an ice cream freezer, divide the mixture into cupful servings and place each cupful into a pint sized freezer strength zip-close bag. Place the small sealed bags inside one gallon-sized zip-close bag. Fill the big bag half full of ice and add six tablespoons of rock salt. Seal the bag, and shake for 5 to 10 minutes or so until the mixture in the small bags freezes and becomes ice cream.
View the Recipes:
> Grilled Banana Splits
> Homemade Ice Cream
> Chicken Wing Sate