Family Bike Adventures in the Southeast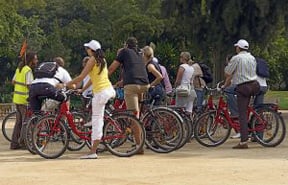 Greenbrier River Trail
Greenbrier River Rail Trail State Park
Marlinton, WV 24954
(304) 799-7416
www.greenbrierrivertrail.com
Be sure to bring the whole gang to this gorgeous path alongside the Greenbrier River in Eastern West Virginia. Formerly a stretch of C&O railroad, this rail-to-trail conversion has been voted the best "Rail Trail" in the Southeast.
Cyclists will enjoy a winding passage through the Monongahela National Forest and the Greenbrier and Seneca State Forests, as well as the Cass, Watoga and Droop Mountain State Parks. The Allegheny Mountains are a nice backdrop for all of these sites throughout the trip. The 79-mile-long trail passes through several small towns and includes two tunnels and 35 bridges.
For overnight trips, there are camping sites and other types of lodging along the trail every few miles, so shelter is not hard to find. However, this trail passes mostly through remote areas, so a small bike repair kit and two to four liter water bottle per person is suggested.
Double Oak Trail
Oak Mountain State Park
Pelham, AL 35124
205-620-2520
www.alapark.com/OakMountain
The Double Oak Trail at Oak Mountain State Park in Alabama is perfect for a family vacation because it ranges widely in scenery and skill level. The entire trail is a 17-mile loop, made up of about 10 sections. In 2001, a new section of trail was cut just for families and beginners. This is a three mile loop for anyone looking to have an easy or relaxing ride. For the adventurers, some of the more advanced sections include steep hills with tight twists and turns, jumps, fallen trees and rock gardens. There are a number of local bike shops in the area in case any bikes need repair.
Aside from the bike trail, there are many possibilities for family fun at Oak Mountain State Park. This beautiful 10,000-acre facility has many places available for picnicking, hiking and camping, as well as a perfect lake for swimming and relaxing. There is no fee to ride on this trail, but contributions are welcome.
Difficult Run Trail
Great Falls Park
McLean, VA 22102
(703) 285-2965
www.nps.gov/grfa
Voted the third best mountain biking trail in the U.S. on Trails.com, the Difficult Run Trail is considered to be one of the nicest in the Southeast, spanning 24 miles from Reston Falls, Va., to Great Falls National Park.
Cyclists with limited experience should not be intimidated by this trail, which is named after Difficult Run, a protected watershed. Despite the name, it is a relatively easy trail with only a few moderately challenging spots. For about 12 miles, the Difficult Run Trail winds northeast-southwest through the woods of Reston, Vienna, and Great Falls. This stretch includes several hills, some rocky sections and a few stream crossings.
This trail is known to be a bit muddy at times, so make sure to ride safely. Not all parts of the trail are close to towns or cities, so consider bringing a bike repair kit in case of an accident. There is no fee to ride on this trail.
Sadlers Creek Bike Trail
Sadlers Creek State Park
Anderson, SC 29626
(864) 226-8950
www.southcarolinaparks.com/park-finder/state-park/1888.aspx
Sadlers Creek State Park is home to a wonderful four mile bike trail in the mountains of South Carolina. This beginners trail is mostly level and made of dirt, starting with a series of winding zigzags through hardwood and pine forests. Watch for beautiful lake vistas, deer, squirrels, chipmunks, snakes, chickadees and other wildlife. Toward the end of the trail, prepare for some hillier sections. Ride with caution to avoid the occasional low hanging branch, downed tree or unexpected tree root.
After the ride, there are still from plenty of other options for outdoor recreation and wildlife observation at Sadlers Creek. There are campgrounds on the shore of Lake Hartwell, where there are many popular sites for fishing, picnicking, hiking and boating. The admission is free for anyone under 16, and $2 for adults 16 and above. The cost is $1.50 for senior citizens above the age of 65.