Fall-Themed Dates for Kid-Free Days
The latest in our date night series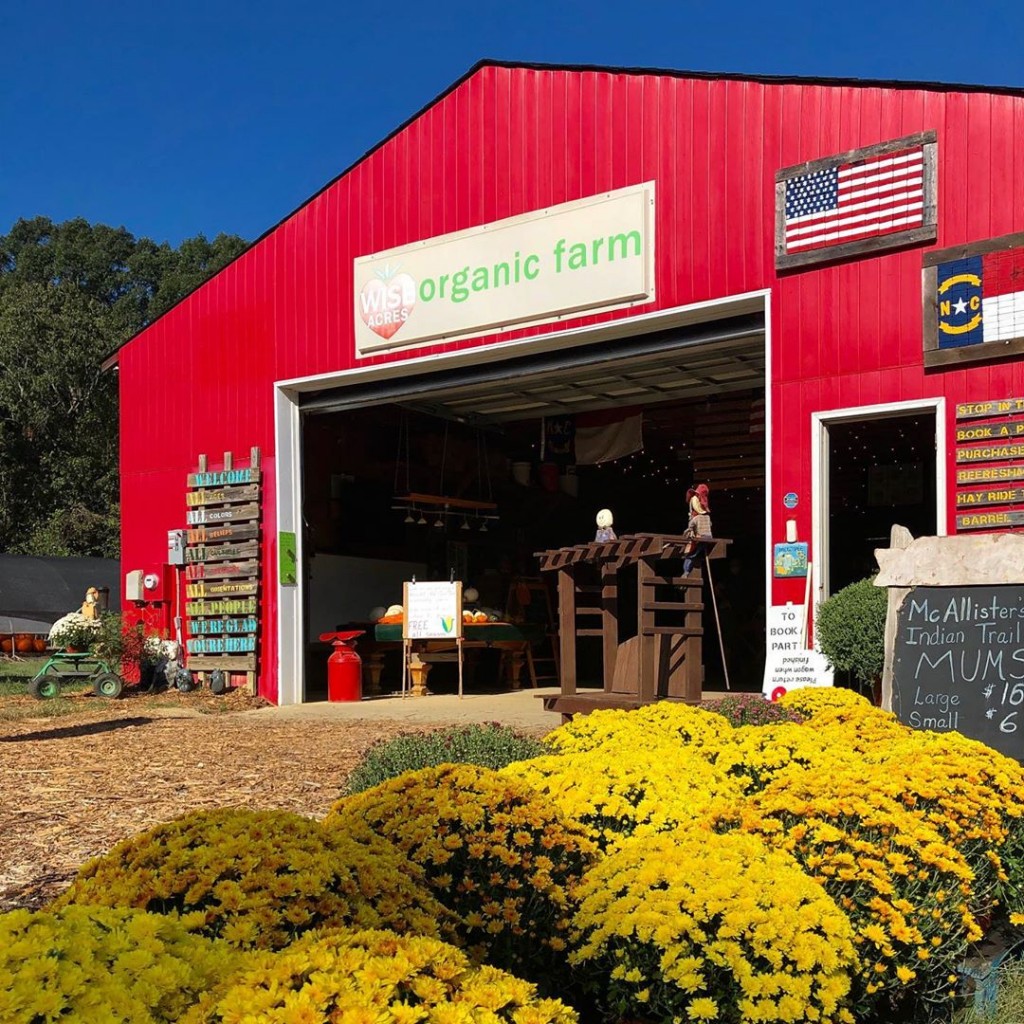 As the weather finally begins to cool, and the leaves begin to turn, Charlotteans across the city will begin to enjoy the outdoors in a way they haven't been able to during the warmer months. With plenty of fall family activities to do, parents should be sure to carve out some time for themselves to enjoy fall. This month, put on your favorite sweater, grab something warm to sip on and head out for a kid-free fall themed date.
As a first stop on your fall date, head to a pumpkin patch and enjoy strolling sans kids. Charlotte is home to a number of pumpkin patches that offer the perfect backdrop for a fall stroll. Wise Acres Farm, a favorite among locals and those passing through the city, is open Sunday and Thursday, 9 a.m. to 5 p.m., and Friday and Saturday, 9 a.m. to 7 p.m. In addition to pumpkins, the farm also has a large selection of mums for purchase. If you get hungry while strolling the beautiful grounds at Wise Acres Farms, you can plan to chow down on their delicious wood-fired pizza.
If you're on the south side of the city, consider heading to Bush-n-Vine Farm which features pick-your-own pumpkins, as well as live music and a selection of food trucks. Bush-n-Vine farm is open Monday to Saturday with pick-your-own pumpkins available through Oct. 31.
If you love the fall-ness of a pumpkin patch but are already planning to head to one as a family, consider upping the challenge and heading to a corn maze with your partner instead. Get Lost Corn Maze in Albemarle is a sure bet for finding-you-way-out-fun. After you work your way through the maze, consider sitting down to relax with a snow-cone or glass of lemonade or playing a few rounds of corn hole.
If you're located closer to Statesville, try heading to Regal Corn Maze instead. Regal Corn Maze in Statesville operates Friday-Sunday and costs $9 per person. Regal Corn Maze also has a giant slingshot, a corn cannon and checkers for your post-maze entertainment.
After enjoying the beauty of a pumpkin patch or the challenge of a corn maze, head east of the city to enjoy panning for gold in the great outdoors. At Reed Gold Mine you and your partner can talk, connect and laugh as you pan for something special at this historic site located in Midland, N.C. Reed is open for panning Tuesday-Saturday through Oct. 31. In addition to panning for gold you can take a guided tour of the underground tunnels or the stamp mill, or take a hike on one of the several trials that cross the site. Reed Historic Gold Mine also has ample picnic sites so don't be afraid to pack a lunch to enjoy after a long walk or a little panning.
After panning for gold, hiking a beautiful trail and learning a little bit more about North Carolina history, you'll probably be in the mood to relax somewhere familiar with your partner. There's nothing better on a fall evening than heading to a favorite brewery to end your day on a high note.
Olde Mecklenburg Brewery is a sure win if you're looking for an outstanding brewery experience. Olde Mecklenburg offers free tours every Saturday and Sunday plus live music Thursday, Friday, Saturday and Sunday. In addition to serving a wide selection of local beers, patrons can also purchase cider or wine and order from a menu offering both gluten-free and vegetarian options. Both the indoor and outdoor seating options are cozy and comfortable.
If you're in the SouthPark area you might be used to traveling to another part of town to head to a brewery but, with the recent opening of Legion Brewing's SouthPark location you can stick close to home and still enjoy a fun evening out. Legion Brewing in SouthPark offers a wide selection of beers on tap, as well as a full — and delicious — food menu. Start with a handmade beer pretzel to share and then, depending on what you're craving, order a pizza, burger or entree like the bison chili mac-and-cheese, Brazillian steak or BBQ spiced NC pork chop. While the menu is full of delicious options for meat eaters, there are also a number of wonderful options for vegetarians including the garden, a selection of delicious vegetables and mushrooms, mac-and-cheese, and quinoa salad.
This fall, after hitting up the festivals and family events around town with your kiddos, take a little time for yourself and your partner to enjoy all that fall has to offer. Enjoy your fall-themed date day.
Julia Pelly lives in southeast Charlotte with her husband and two young children. When she's not writing, you can find her hiking, exploring the city with her husband or pushing her children on their backyard swings. Find more of her work at juliapelly.com.