Fabulous Furniture for Kids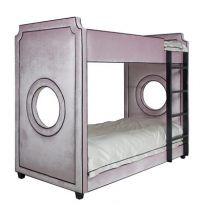 I have just returned from the International Home Furnishings Market in High Point, NC and have come back with some fabulous furniture for kids. Trust me, this isn't your Kids R Us or Rooms to Go furniture. The style and the quality of this furniture is beyond what a lot of parents select for their own room. I was completely enamored with this porthole bunk bed. The photo doesn't do it justice. This one is lilac with black studs, but you can get it in your choice of colors. I loved the black velvet one with silver studs but my photo didn't come out very good!
This bookshelf also caught my eye because of its unique shape. I love how it mimics the look of a pagoda. It can be custom ordered in any color you like so it will match your child's room perfectly. 
If you are looking to create a nautical look that goes above and beyond seashells or whales, this collection is for you. It is incredibly elegant and suitable for royalty with its rich navy and gold details. I can totally imagine this impressive collection in the nursery of Prince George, can't you?  
For those who want nothing but the best for your little one, this is the crib for you. The gold leaf detailing makes it the ultimate in opulence. Yes, that is real gold leaf!. This is the perfect crib for the future Donald Trumps or Jay-Z out there. 
Is this level of luxury for you, or would you prefer a simpler style? I'd love to hear what you think!
Barbara Green is the owner of Sensibly Chic Designs for Life located at 830 Lamar Avenue in Charlotte and host of Ask the Design Diva. She believes you CAN have it all: kids, pets, and a beautiful home. Give her a call at 704-608-9424.