Expert Information on Allergies and Asthma
How to prevent allergies and asthma from effecting your child's learning and behavior.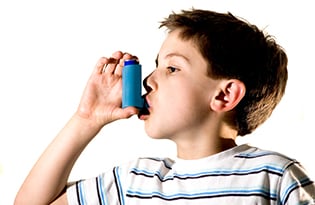 SPONSORED CONTENT
Twenty percent of people living in the United States unknowingly suffer from allergy or asthma symptoms. Allergic Rhinitis, or "hay fever," occurs in patients who are sensitive to allergens such as animal dander, dust mites, mold or pollen. This condition can cause daily life tasks such as chores, errands, playtime, school and work difficult for sufferers. Symptoms can be, in some cases, severely debilitating and this can have a large impact on quality of life. Sneezing, runny nose, scratchy throat, sinus pressure, postnasal drainage, headaches, congestion, sore throat, chronic cough, hoarseness, constant throat clearing, ear pressure and snoring are some symptoms that individuals who suffer from allergies experience. Patients with allergies may experience fatigue, feel feverish or feel achy. Uncontrolled allergies in children have been linked with poor school performance and lower test scores.
One of the main reasons students miss school due to an illness is from asthma – more than 14 million school days are lost in the United States in one year alone. Allergic patients cost the healthcare system nearly $8 billion annually with missed school and work days. The discomfort due to allergies in children may be expressed as poor behavior at home or in school. Allergies can often result in irritability during allergy seasons. Many children diagnosed with ADD/ADHD show marked improvement once their allergy symptoms are controlled. Children with attention deficit disorder should be evaluated for allergies if they have chronic nasal symptoms.
Chronic nasal congestion can cause breathing difficulties and affect sleep. The average person needs seven to eight hours of sleep to function normally. Losing this time to allergies and asthma can add a decreased ability to function. Forty percent of adults reported a decrease in productivity and responsiveness when they did not receive a full night of sleep.
Asthma symptoms can vary from minor to severe, as can the frequency of the symptoms. Certain environmental situations may also cause asthma flares. For instance, exercise-induced asthma may worsen with cold or dry air, occupational asthma may be activated by workplace irritants and allergy-induced asthma triggered by particular allergens such as pets or pollen, especially during peak allergy season changes.
Atopic dermatitis, also known as eczema, is a prevalent condition affecting both children and adults. Roughly 20% of students between the ages of 5 and 12 suffer from eczema. Without considering the physical and emotional distress that this condition causes the child, days missed from school as a result can inevitably bring down test scores. Days missed by the child at school and by parents at work add to the fiscal responsibility accompanied by this condition, as much as $12.8 million per year. Treatment by a Board Certified Allergist/Immunologist Specialist can decrease this burden and lessen the strain on a patient's quality of life.
With proper treatment, symptoms can be kept under control and disruptions in learning and behavior can be avoided. Education is the first step; learning which medications are best suited and what triggers to avoid. An appointment with a Board Certified allergist/Immunologist Specialist is the best step to determine which specific substances you are allergic to, as well as assist with a treatment plan to help you achieve your best symptom control. At AAIR (Allergy, Asthma, and Immunology Relief), we can help you live and breathe easier. We offer traditional subcutaneous immunotherapy (allergy shots), as well as sublingual immune therapy (allergy drops). We are the only board-certified asthma-allergy practice in Charlotte who is delivering this cutting edge care. We believe in an integrative approach when caring for our patients and will work meticulously to provide the symptom resolution you desire. Finding control and relief is right around the corner. We welcome the opportunity to partner with your primary care provider to provide state of the art, integrative, innovativeand individualized care for your family!

Dr. Maeve O'Connor is a board certified Allergist/Immunologist and founded Allergy Asthma & Immunology Relief (AAIR) in January 2013. She has been named Charlotte Magazine's "Top Doctors" 2007-2014.