Excursion: Arts and Science Council Public Art Scavenger Hunt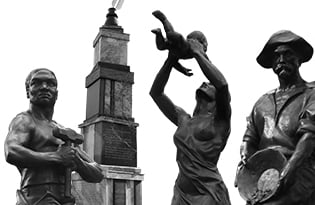 Exposing kids to different art forms as they burn off excess energy is only a walking tour – or scavenger hunt – away in uptown Charlotte.
The Arts and Science Council offers both a public art walking tour and a public art scavenger hunt to highlight the abundance of public art found in center city.
The 45-minute walking tour podcast and map, as well as the scavenger hunt map and answer key, can be downloaded at artsandscience.org. They're free and self-guided, meaning you can do as much or as little as young legs will allow.
The ease of the walking tour makes it a good option for families with young children. The map shows tourists where to go and the podcast offers fun factoids about the public art they will encounter, such as The Writer's Desk by Larry Kirkland, located on East Seventh Street near ImaginOn. The piece, which features oversized stamps, typewriter keys and pencils made of granite, pays homage to former Charlotte Observer publisher Rolfe Neill.
Families with older children who like a good challenge should consider the scavenger hunt, which provides an overview of public art along uptown Tryon Street stretching from the Levine Center for the Arts to the McColl Center for Visual Art. Cultural hunters have to answer not-too-difficult clues to find center city public artworks that help tell Charlotte's story.
At the Trade and Tryon streets intersection, for example, is Raymond Kaskey's four Sculptures on the Square. The monumental sculptures, one on all four corners and erected in 1995, point to economic activities – gold, rails and textiles – that shaped Charlotte's history and look to its future.
As you take the public art walking tour or the public art scavenger hunt with your kids, be sure to ask open-ended questions such as "What does this artwork make you think of?" or "How does this piece make you feel?" and encourage them to share their observations.
It's an opportunity for you to talk to your kids about the importance of artistic expression and for your kids to interact with the public art that gives uptown Charlotte its character.
Bernie Petit is communications manager for the Arts & Science Council in Charlotte. He has previously worked as a staff reporter for The Gaston Gazette and The Charlotte Observer.