Enchantment in Blowing Rock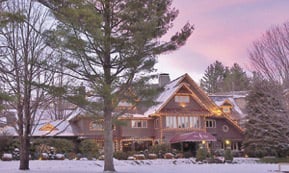 From late November through the Christmas season, visitors to Blowing Rock, N.C., and Chetola Resort will feel as if they have stepped into a fairy tale. Nestled in the Blue Ridge mountains, storefronts in downtown Blowing Rock sparkle in the festive air, decked out in white lights and garlands. The resort has its own spectacular "Festival of Lights," which features more than 50,000 illuminations. Additions to this year's display include a 30-foot horse-drawn sleigh and two 6-foot swans that celebrate the six swans that live on Chetola Lake.
Thanksgiving weekend kicks off the season in town with a "Norman Rockwell" Christmas parade, as well as Christmas in the Park. This festive start to the season includes activities for kids of all ages, an appearance by Santa, hayrides, hot cider and chocolate, caroling and lighting the Blowing Rock Christmas Tree. This year's holiday performance at the Mariam and Robert Hayes Performing Arts Center is "The Christmas Bus," a musical that will delight children and adults.
Chetola Resort
Within walking distance of downtown, Chetola resort offers a range of accommodations on 87 acres. Families can stay in the lodge, which has 42 rooms with views of the Chetola Lake or grounds. Or if they need more room, there are condominiums ranging from one to four bedrooms. And the Bob Timberlake Inn is filled with the popular artists' furnishings and décor.
Plenty of activities for kids and adults are available at the resort. Guests can take out paddle boats and canoes or go fishing at the lake. Hiking trails, a heated indoor swimming pool, whirlpool, fitness center and horseshoe pit also are on site.
Dining options at the resort include the Manor House Restaurant, featuring continental cuisine and some of the best hot chocolate anywhere topped with a pile of whipped cream. Headwater's Pub serves a more casual dinner some nights along with wine, cocktails, aperitifs, domestic and imported beers and coffee drinks.
For those looking to get away from the hustle and bustle of the holidays, Chetola offers a variety of spa services, including deep tissue and Swedish massage. Winter travelers interested in shopping can take advantage of the resort's "Holiday Shopping Spree" package, which includes overnight accommodations, a $50 gift certificate to Tanger Shoppes on the Parkway, a value certificate to The Bob Timberlake Gallery, a Chetola guest savings certificate to Designer Fragrances and Cosmetic Company at Tanger Outlets, and a complimentary bottle of champagne.
Take Home a Tree
Families can take home a festive souvenir from their holiday getaway thanks to the Choose & Cut Festival around Blowing Rock, Nov. 16 to Dec. 25. And Chetola resort has teamed up with Circle C Farm and What Fir! Tree Farm for choose-and-cut packages. Both farms feature animals for petting, hot chocolate and snacks, hayrides and sled runs, as well as the ability to choose and cut a farm-fresh family Christmas tree!
Blowing Rock, N.C.
www.blowingrock.com
Chetola Resort at Blowing Rock
P.O. Box 17, North Main Street
Blowing Rock, N.C.
Chetola Resort
828-295-5514 or 800-243-8652
Rooms are $142-$364
Christmas Tree Choose & Cut
www.watauganurserymen.org/choose_cut.htm
Leigh Ann McDonald Woodruff is former editor of Piedmont Parent.