Eating Out with Kids: Restaurant Etiquette Tips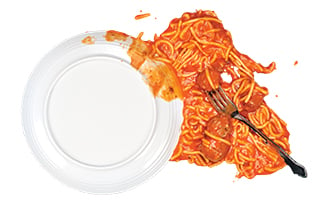 Eating out is supposed to be a break from the prepping, cooking and cleaning at home. Eating out with kids — especially young children — can, however, cause parents to feel more stress after the meal than before they sat down. But it doesn't have to be like that, and the benefits of good restaurant etiquette extend beyond the dining table.
Parents can use eating out as an opportunity to be role models and teach children how to socialize and behave in a restaurant environment. "You learn the socialization process and how to act throughout the entire meal," says Patrick Whalen, operating partner at Nan and Byron's restaurant in Southend. These skills not only reflect favorably on your child — and you as a parent — but helps your child develop life skills that can be used over and over again.
With a bit of planning and preparation, dining out can be enjoyable for all ages. Here are suggestions for how to work on restaurant manners with your child before your family's next dinner out.
Practice at Home
Good table manners start at home. "Good etiquette is good etiquette," says Alice Cunningham, owner of Alice's Place, a teahouse in Winston-Salem that hosts tea parties that include lessons about manners. "You don't separate restaurant behavior from day-to-day behavior. It's not like a dress you can take on and off."
At home, Cunningham advises turning off the TV to fully enjoy a family meal and focus on good behavior and conversation. "If it's done day-to-day, it's not as traumatic when you go out in public," she says. "What you do at home, you automatically do 'out there.'"
Susan Caldwell, founder of Lil' Chef Kids Cooking Studios and mom to an 11-year-old daughter and an 8-year-old son, says "etiquette is a spin-off of what we do everyday." She recommends role-playing at home to prepare a child for dining out and to be sure and recognize good manners. "Kids feed off praise and recognition," she says.
Step Away
If your baby or toddler begins screaming, take her out of the situation, says Cunningham. Likewise, if an older child causes a commotion, talk quietly and firmly to them at first. "If the behavior continues, then remove the child from the restaurant," she says. "Don't have [the behavior] continue for 10 minutes."
To reduce your own personal stress by watchful eyes of other restaurant patrons, take the child outside, weather permitting, to calm down. "People are more willing to be forgiving if the parent is involved in the socialization of the children and correcting behavior, than if you're disengaged and playing Angry Birds," says Whalen.
Plan Ahead
"Advanced preparation is key," says Caldwell. Keep little ones busy with a backpack of items: toys, paper, pen, crayons, books, and headphones for any electronics. "I try to be prepared for whatever's thrown my way," she says.
"Be engaged with what your kids are doing — it's part of the social process," says Whalen, who has a 3-year-old son and 4-month-old daughter. "You can't just hand them an iPhone and have them disengage. It's good to learn how to deal with impatience or not getting exactly what they want to eat. They need to learn the rules of the restaurant."
To Clean Up or Not?
The jury is out on this one. Whalen doesn't think parents need to clean up messes made by a baby or toddler when dining out because, "the whole point of going to a restaurant is to be taken care of," he says.
Caldwell, however, suggests parents attempt to clean up. She says if she can't clean up the mess, she compensates by leaving a little larger tip.
Whalen says a bigger tip is nice but not necessary. "Families may not be in a position to pay more," he says. "So don't add to it by increasing the tip."
Order Independently
Children's readiness to order their own food depends on their personality, age and developmental stage. Whalen advises that parents take over when their child is hesitant or takes longer than 10-20 seconds. "It's not quantifiable," he says, but can occur "when the child feels comfortable to speak publically without infringing on the server's ability to do their job."
Teaching manners "builds self-esteem and it encourages self confidence," says Caldwell. "A good foundation gives [children] the opportunity to learn and practice leadership skills … We all need manners if we're going to move forward in life."

Browse our list of local family-friendly restaurants in Charlotte »
Table Manner Tips from the Experts
Alice Cunningham, owner of Alice's Place in Winston-Salem, and Susan Caldwell, founder of Lil' Chef Kids Cooking Studios, teach the following table manners to their students:
Always put your napkin in your lap.
Chew with your mouth closed.
Don't slurp your drink.
Cut your food into small pieces.
Eat small bits of food with a fork.
Don't bang utensils or other items on the table.
Start from the outside in when using utensils.
Hold the chair for ladies.
Cross your legs at your ankles.
Moms Weigh In on Facebook
We asked Charlotte Parent Facebook friends if they clean up after their children when dining out. Here's what they had to say:
We try very hard not to make too big of a mess. I clean up all I can, and if it is an unusually big mess, I leave a bigger tip! — Becky Booth Baucom
I clean up all of the mess on the table. I stack the plates, place all trash on top, then all silverware on top of that. I then place all plates and glasses at the end of the table so they are easy to reach by the waiter/waitress or table cleaner. My husband thinks I'm crazy, but I think it's respectful. — Ashley Martin Bush
I think if you teach them good manners at home they carry on to public places. If I notice that my 18-month-old is not hungry, then I stop giving her food. I think some people just give them food to keep them entertained, and that's when they make a mess. — Claudia William Caballero
I clean up after my child. It may be the wait staff's job to clear a table, but not necessarily to clean up a huge mess, especially one my child may have made. — Angela King
I definitely make the effort to clean up anything excessive. I have worked in restaurants. I know what it is like from both sides. And, it's just the decent thing to do. — Teanne Gragg
Cathy Downs is a Triangle-based freelance writer.