Easy Valentine's Day Craft – Make at Home Heart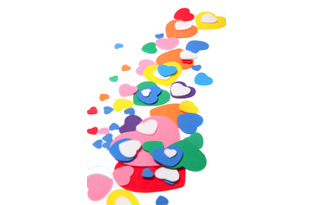 STEP 1: Cut out a large heart shape from a brown paper grocery bag.
Use pinking scissors for a more decorative edge.
STEP 2: Use single hole punch to make holes around the edge of the heart.
Note: We didn't have a single hole punch, so I positioned the 2-hole punch properly, and let my son do the punching.
STEP 3: Thread ribbon through the holes.
Use red or pink yarn, string or ribbon of any kind will work. Be creative!
STEP 4: Decorate.
Write a message. (I love you. Be Mine. Happy Valentine's Day.) Use glitter, markers, crayons or stickers.