Easy-to-Make Elf Halloween Costume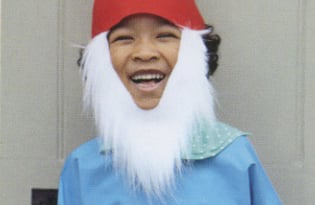 You will need:
– 45x44in (114x110cm) bright-colored fabric for the top, and matching thread
– 49x34in (124x85cm) striped fabric for the pants, and matching thread
– Velcro
– Elastic 1/4in (5mm) wide
– Safety pin
– 21x15in (55x40cm) red felt and matching thread
– 10x9in (26x23cm) fake fur
– 30x6in (80x15cm) brown felt and 4x6in (10x15cm) yellow felt
– Embroidery floss and needle
– Rubber boots (to complete costume)
For patterns and more detailed instructions, pick up the book "Cute and Easy Costumes for Kids: 35 Fun Dressing Up Ideas for Children" by Emma Hardy (CICO Books, July 2010, $19.95), which features 35 ideas for easy-to-make Halloween costumes.
1 Using pattern pieces 75a 75b, and 76 (see book reference at bottom of page), make the top and pants following the directions on pages 122 and 123. To make the hat, cut a piece of red felt using pattern piece 37. Fold the felt in half, right sides together. Pin and stitch together on one edge with a 3/8in (1cm) seam. Run right side out. Cut the beard using pattern piece 43, and stitch the top edges to the bottom edge of the hat at each side.
2 To make the belt, cut two 28x2in (71x4cm) strips of brown felt. Sew the two pieces of a Velcro patch to one end of each strip on the right side.
3 Pin the strips together so the Velcro is on the outside at opposite ends. Hand sew running stitch all the way around using embroidery floss.
4 Cut out two buckle pieces from yellow felt using pattern piece 12; stitch them together. Sew the buckle on top of one end of the belt, with the Velcro on the underside.