Easy Do-ahead Pizza Crust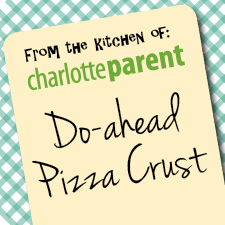 Ingredients:
3 1/2 cups lukewarm water
1 tablespoon dry active yeast
1 1/2 tablespoons salt
7 1/2 cups all-purpose flour
Directions:
Combine water, salt, yeast and flour in a large plastic container and simply stir to mix until batter is sticky. Let sit 2 hours at room temp. Cover and place the container of dough in the refrigerator for at least an hour or so before using. This terrific dough keeps ready to use for up to 14 days.
> View more Family Pizza Night Recipes