Easy Churros 'N' Chocolate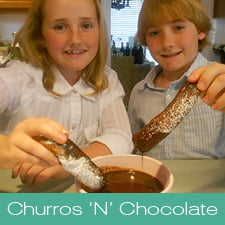 These long skinny doughnuts are pan-fried and served while hot and crispy with a cinnaman flavored chocolate dipping sauce that makes them even more fun.
INGREDIENTS
1 can refrigerated biscuit dough
Canola oil
1/4 cup powdered sugar
1/2 cup Nutella spread
1/4 cup whole milk
1 tablespoon Mayan cocoa powder
2 teaspoons ground cinnamon
DIRECTIONS
Cut each biscuit in half with a pair of scissors and roll each half out into a long, fat "snake." Heat about 1 inch of oil in a shallow frying pan. When the oil is hot, place three or four strips of dough at a time until golden brown, turning once, about 2 minutes on each side. Drain the fried dough on paper towels. Sprinkle churros with a combination of sugar and Mexican cinnamon.
Heat the Nutella in a microwave for two minutes to warm. Stir in the milk, cocoa powder and cinnamon. Serve in a big bowl as a dipping sauce for the fried churros – yum!
Contributed by Heidi Billoto