Easy Cheesy Beef Taquitos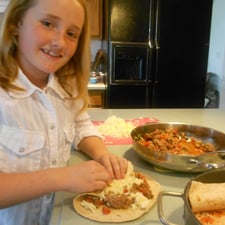 A healthier, baked alternative to historically fried taquitos.
INGREDIENTS
1 tablespoon extra virgin olive oil
1 medium onion, minced
1 red bell pepper, cut into thin strips
1 pound Proffitt Family Cattle Co. ground beef
1 can Ro-tel tomatoes
1 tablespoon chili powder
1 tablespoon cumin
Salt and pepper to taste
10 (6-inch) whole-wheat flour tortillas
1 cup local Ashe County cheddar or pepper jack cheese
DIRECTIONS
Preheat oven to 400 degrees.
Over high heat, add the olive oil to a frying pan and heat until the oil becomes aromatic. Add the minced onion and red bell pepper and cook until the onion is soft and slightly browned. Add the ground beef; stir to blend, and cook 1-2 minutes. Add Ro-tel, chili powder and cumin, as well as the salt and pepper. Cook over low heat, stirring occasionally, for 10 minutes.
Soften the tortillas in the microwave for a minute or so to make them easy to roll up. Spread a spoonful of the beef mixture across the surface of the tortilla, leaving about an inch of clean space at the edges. Sprinkle your favorite cheese evenly over the beef mixture.
Roll each tortilla up tightly and place, seam side down, in a casserole dish filled with Spanish rice. Top the taquitos with more cheese and bake in the preheated oven for about 10 minutes. Serve hot with your choice of guacamole, sour cream or salsa.
Contributed by Heidi Billoto
> View more Mexican Meals
> Back to Healthy Recipes