Easter Bunny Craft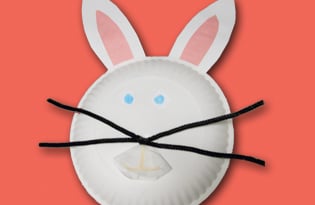 You need:
– Paper plate
– School glue
– Colored pencils
– 2 black pipe cleaners
– Scissors
Instructions:
*An adult will need to help with the cutting
1. from white paper cut out 2 bunny shape ears
2. from the pink paper cut out 2 smaller size ears
3. Glue these together and glue them to the backside of the plate at the top about 2 inches apart
4. Cut from white paper 2 circles for eyes
5. Color the eyeballs any eye color you'd like & glue them to the plate 3 inches under each ear and 1 inch apart
6. Cut from the white paper a triangle for the nose and glue this onto the plate 3 inches from the bottom center
7. Bend the 2 pipe cleaners in half, link them together at the bend, and glue onto plate at the top of tip of the nose make sure they are straight like whiskers.
8. To make into a mask cut circles out of the plate to make eye holes and glue, staple, or tape on elastic string large enough to fit snugly around your child's head to the back sides of the plate