Dressing Up with Style and Organization!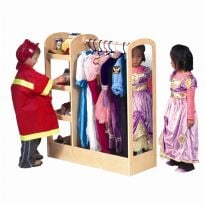 Being a grown up is hard, isn't it? Don't you wish sometimes that you could go back and just play dress up, and be somone completely different than you are in real life? Kids have lots of fun changing their roles and personalities with dress up clothes, but sometimes all those adorable options can overtake their room or playroom. 
Thankfully, manufacturers are encouraging this creative outlet and producing attractive pieces of furniture to help encourage your child's journey into fantasyland while still keeping things neat and orderly. This piece features a full length mirror for your child to enjoy the reflection, plus space for hanging clothes as well as shelves for shoes and accessories. It would look adorable in any bedroom or playroom.
If that dress up station is too large for your child's room, here is a smaller version that will tuck inside a corner easily yet still offers storage solutions for costumes and accessories. It is on a swivel base, so all sides can be easily accessed.
If you prefer the "dump and cover" method of dress up storage this storage bench would be perfect for you. The top features a safety hinge so it can't accidentally fall and crush tiny fingers. Instead of fumbling with hangers and having to neatly display accessories on a shelf, your child can just throw everything inside for quick clean ups at a moment's notice. 
What storage methods do you use for your kids' dress up? Please share your ideas in the comments sections so other parents can learn your secrets!
Barbara Green is the owner of Sensibly Chic Designs for Life located at 830 Lamar Avenue in Charlotte and host of Ask the Design Diva radio show. She believes you CAN have it all: kids, pets, and a beautiful home. Set up a design consultation by calling 704-608-9424 today!