Don't Waste Your Space!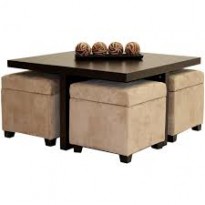 Do you have rooms at home that you walk by and think "What a waste!"? Perhaps you have a living room that never gets lived in? If you switched out this storage ottoman coffee table for your ordinary coffee table you could transform your living room into a family fun center. Games can be stored in the ottomans and on family game night each family member can use one as a seat at the coffee table and have a great time. 
Is your battle between needing a home office and a guest room? If that is the case this amazing desk/bed combo is the perfect solution for you. During the day it is a roomy and functional space for a home office. At night, the desk turns down to reveal a comfy mattress for your guests. The best part is, you don't even have to clear off your desk in order to have access to the mattress. Everything stays in place ready for your next day at work. 

This last option is for the men out there. I hear many complaints about formal dining rooms that only get used on holidays. They would much prefer a pool table that would give them and their friends hours of enjoyment.  Typically, the wives don't like the look of a pool table in the dining room, but this pool table looks beautiful and serves both functions. The legs raise and lower pneumatically so the table will be at the correct height for either dining or pool. The cover goes on and off easily and is super good-looking. Its a perfect compromise for both of them!
What areas of your home feel wasted? Share in the comments below and we'll see if we can come up with some solutions.
Barbara Green is the owner of Sensibly Chic Designs for Life and the host of Ask the Design Diva radio show. She believes you CAN have it all: kids, pets, and a beautiful home. Stop by her showroom located at
830 Lamar Avenue in Charlotte or give her a call at 704-608-9424.