Don't Paint Your Memories!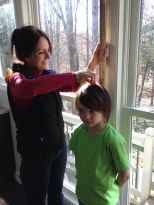 How many of you record your child's growth by making a mark on the wall, door frame, or other surface? When I was married and raising my two daughters we used to mark their height on a closet door each year on their birthday. Considering we moved 12 times in 17 years, that was a lot of doors! A painter since 1977, Marc Blickenstaff told me how sad he was when he had to paint over those precious memories of children's growth. A father of five and also a talented craftsman, he was a man on a mission to prevent this from ever happening again, and the resulting invention was BlicksSticks. 
Marc uses a lathe to create a six-sided pole and then laser-etches the entire length of one side in inches. Along the bottom, each child's name is etched so you can have a permanent record of growth. The first stick he made was for his own family, and now his children are grown and they have sticks to measure their kids' growth, too!
The measuring stick also comes with hardware to mount it on the wall. It makes a lovely display when paired with photos of the children as they grow. This is such a thoughtful gift for a baby shower, or as a keepsake for grandparents. If you've already marked up your walls and are moving, you can order a BlickStick and transfer the measurements before you leave. Don't paint over those memories and certainly don't leave them behind!
With BlicksSticks, if you ever have another child you can unscrew the bottom portion, mail it back to Marc, and have the new child's name added. The easy disassembly also makes it convenient if you have to move. You'll never have to leave your child's growth chart back at the old house.
I am not affiliated with BlickSticks so I want you to be sure that I have no financial stake in this company. I am simply a mother whose children are grown and gone and I would have treasured having this permanent record of my two children's growth. Not only is it a piece of art to be displayed proudly on your wall, it is a $250 investment in your family's memories, and to me, that is priceless. If you'd like more information, please contact Marc directly at mwblick@gmail.com.
Barbara Green is the owner of Sensibly Chic Designs for Life located at 830 Lamar Avenue in the Plaza Midwood section of Charlotte and host of the Ask the Design Diva radio show. She believes you CAN have it all: kids, pets, and a beautiful home.