Dog-Friendly Dates in the QC
The latest entry in our date night series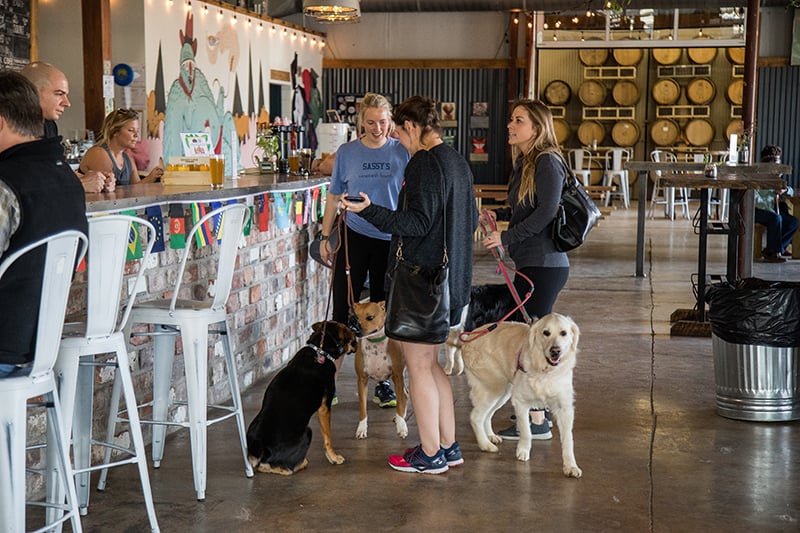 There's nothing better than leaving the kids with a sitter and spending some time connecting one-on-one with your partner. Nothing, that is, except going on a date you get to bring your pup along for. While there are plenty of dog-free places and spaces in Charlotte, there are also a surprising number of establishments that welcome pups on their premises. Check out these dog-friendly date day ideas below and you'll be hitting the town with Fido in tow in no time.
When you're a parent, date days often mean you'll spend at least a little bit of your kid-free time running errands or picking up that last item you need for some sort of special event. If you have shopping needs and you're in the park road area, you're in luck. Both Blackhawk Hardware and Park Road Books welcome pups into their stores. At Blackhawk Hardware you can browse a wide selection on hardware and home goods as well as everything you need to take care of your indoor and outdoor DIY. You can also pick up some free popcorn to share with your pup as you browse. At Park Road Books, you'll have the chance to browse new releases and classics from local authors as well as national best sellers.
If you have a little shopping to do and are closer to the East Boulevard area, have no fear, Charlotte favorite, Paper Skyscraper, is also a dog friendly establishment. If you've never been to Paper Skyscraper it's well worth it to spend your date time browsing. Paper Skyscraper sells everything from stationary to books to gifts and has something worth buying for everyone. Paper Skyscraper is located at 330 East Blvd. and is open 10:00am-7:00pm Monday- Friday, 10:00 a.m.-6:00 p.m. on Saturdays and 12:00 p.m.-5:00 p.m. on Sundays.
Another fun shop to explore with your pup in tow is Sleepy Poet, located at 4450 South Blvd. Sleepy Poet offers a huge selection of antique and vintage goods that you and your date (and your pup) will enjoy sifting through as you look for something special to bring home. From vintage clothes to vinyl records to furniture and home decor, Sleepy Poet truly has something for everyone.
After browsing, shopping or antiquing, you'll want to head somewhere where your pup can get off leash and you and your partner can relax. In Charlotte, there's nowhere better than the Dog Bar, located in NoDa at 3307 N Davidson St. At the Dog Bar you can let your pup off their leash to play while you and your partner enjoy a drink and each other's company. There is an annual membership fee of $10 per dog and you'll need to show proof of your pups up-to-date vaccinations but doing so will give you peace of mind that all the dogs your pup is socializing with are healthy and up-to-date too. The Dog Bar is open until 10:00 p.m. during the week and until 1:00 a.m. on the weekends.
If you'd prefer a more traditional brewery, or one where you can also grab some food in addition to your drinks, you'll be pleased to know that dogs are allowed on the patios of most local breweries including (but not limited to) some of your favorites like Birdsong Brewing, Devine Barrel Brewing, Free Range Brewing, Heist Brewery, Legion Brewing, Lenny Boy Brewing, Sycamore Brewing, Triple C Brewing and Wooden Robot Brewery.
After a long day of shopping, drinking and relaxing the last thing your pup will want before heading home is a good old fashioned walk in the park. All Charlotte parks welcome leashed dogs and most offer a range of walkways and trails that you, your partner and your pup will enjoy exploring together.
Enjoy your pup-friendly date day parents!