Does Daddy Still Love Us?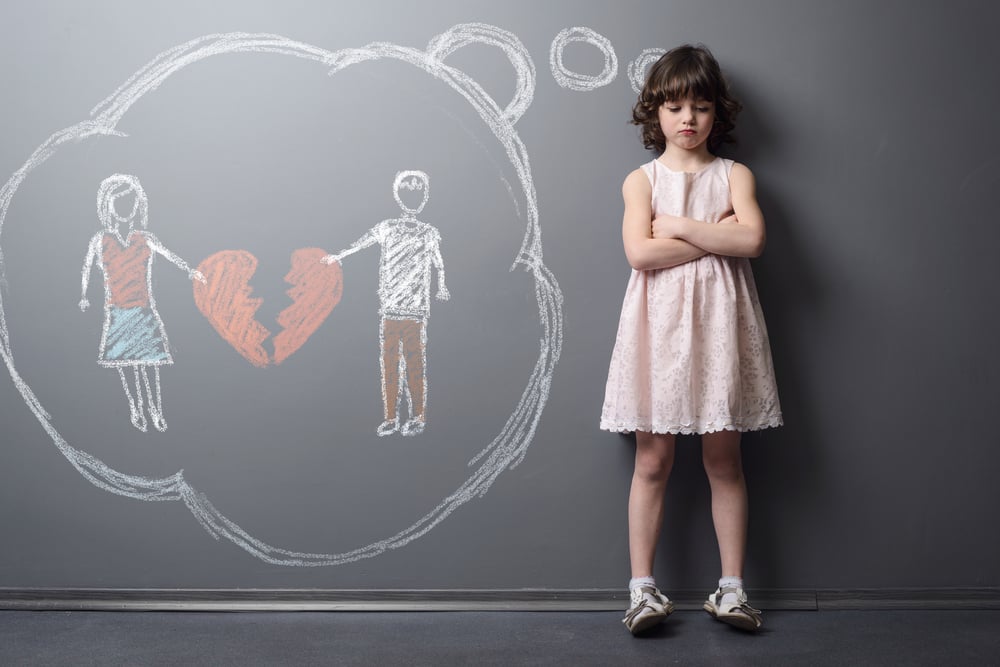 Divorce is hard on adults. Divorce is devastating for little ones. In the midst of this painful transition when adults are determining who gets which car, the house and determining child support payments, what do you do when your 4-year-old asks, "Does daddy still love us?"
These are the words that my uttered to me after I split from his father. In a perfect world, marriages and nuclear families last forever. On the Disney channel, everyone gets along even if the world isn't quite perfect. In the real world, however, the answers can be complicated.
Emotionally, I was doing my best to handle constant court dates, vicious attacks on my character, heartbreak and general uncertainty. I was constantly worried about if my children were OK. I worried about their happiness, I worried about providing for them, I worried about new environments, and I worried about a change in their day-to-day lives. However, it didn't cross my mind at any point that my children questioned if their father still loved them. To hear those words broke my heart more than any divorce ever could have, and I abruptly realized how much our divorce was affecting even my youngest children.
I thought about my son's words for hours. Everything he'd ever known came to an end. He no longer saw his parents together. He visits his father's home on the weekend, but then I was absent. There was a new shuffle in his life back-and-forth between homes and children that were once brothers and sisters, although not biologically related, were no longer there. One family had to become two and even as a mature adult, the learning curve was unforgiving.
The truth is that I wanted to tell him I wasn't sure if his father loved anyone or anything because so many of his actions had brought all of us to this moment. I wanted to tell him that his father was distant and cold at best, even with his children. I wanted to tell him that his father's selfishness had brought the collapse of their beautiful little world. I wanted him to understand what his father had done to me and to him. I wanted to tell him that this wasn't his fault nor mine and that I was there for him despite so many things being out of my control. Yet the only words I could find and the only words I knew I should say as a good mother were 'daddy loves you very much.'
When I had weighed out all of the reasons divorce was necessary, of course my children weighed heavily on my mind, but it wasn't until this day that I realized my children were the only thing that mattered. At that point who cares about lifestyle when your child is unsure of whether or not he's loved?
Now that some time has passed, I still stand on my decision to only say positive things to my children about their father and my soon to be ex-husband. They'll learn, grow, and mature and eventually have their own thoughts on what happened to our family. Even though it brings me great pain some days, I'm willing to carry the burden. I love them more than I dislike my ex, so, for now, they are first and not the truth as I see it.
Tips to Help Make it Through
Simply tell them "Daddy loves you very much" (again and again).
Only say positive things to your children about their other parent.
Highlight and focus on the good things your ex does for the family and children, even if they are few and far between.
Pay close attention to your children during the transition of divorce. It is likely they will be a bit needier, or want to talk about subjects openly that may be hard for you.
Understand that life is hard enough already and much of the truth will find them, eventually.
Listen and comfort every fear with optimism and hopefulness. It never makes you less to be the bigger person and put your children's fears to rest as you emerge from the challenges of divorce.
Finally, realize that in these moments the truth is not paramount! Your children feeling warm, safe and happy is the only thing that matters.


---
Veronika Obeng is a mom of five and star of "Second Wives Club" on E! For more information, visit veronikaobeng.com.