DIY Healthy Food Pyramid Plate
Keep track of guideline portions by making your own fun and colorful Healthy Plate.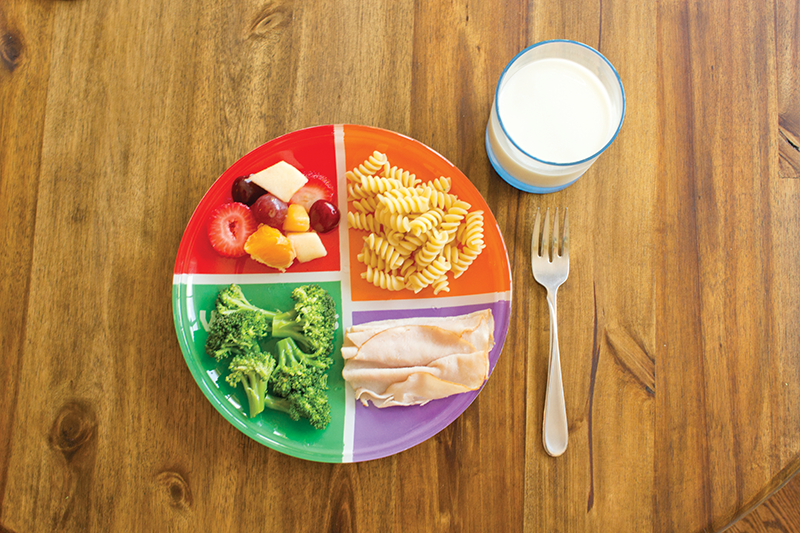 In 2011, the United States Department of Agriculture introduced MyPlate. MyPlate encourages healthy portions of fruits, vegetables, grains, protein and dairy. Dietary guidelines include:
• Making half your plate fruits (whole whenever possible) and vegetables.
• Choosing low-fat or fat-free milk or yogurt.
• Making half your grains whole grains.
• Varied proteins.
Keep track of guideline portions by making your own Healthy Plate like the one below, adapted from the chicaandjo.com blog.
You will need:
A clear food and dishwasher-safe-glass plate
Multisurface satin acrylic paints in green, red, orange, purple and white
Rubbing alcohol
Stencils
Sponges for painting
Masking tape
1. Clean your plate thoroughly with rubbing alcohol. Turn the plate over and on the back, use a strip of masking tape cut in half to divide the plate into four different sections. Divide half of the plate into equal sections for grains and proteins. For the second half of the plate, make one section slightly smaller than the others (for fruits) and make the section for vegetables the largest.
2. Using plastic stenciled letters, spell out Grains, Proteins, Fruits and Vegetables with white satin acrylic paint and the tip of a sponge.
3. Using different sponges, paint each section on the back of the plate in the following colors: Green for vegetables, red for fruits, orange for grains, and purple for protein. You may need several layers of paint for good coverage. You can paint right over the white lettering.
4. Once the four sections have dried, peel off the tape divider. You can then paint the lines on the back of the plate white. Let the dish (or dishes) cure for a week, and then bake at 325 degrees for 30 minutes.
5. You can also stencil "Dairy" on the bottom of the glass for a complete set.
Visit chicaandjo.com/myplate for a full tutorial.