DIY Crayon Eggs
Create simple and colorful DIY Crayon Eggs that are fun to play with and perfect for the Easter season!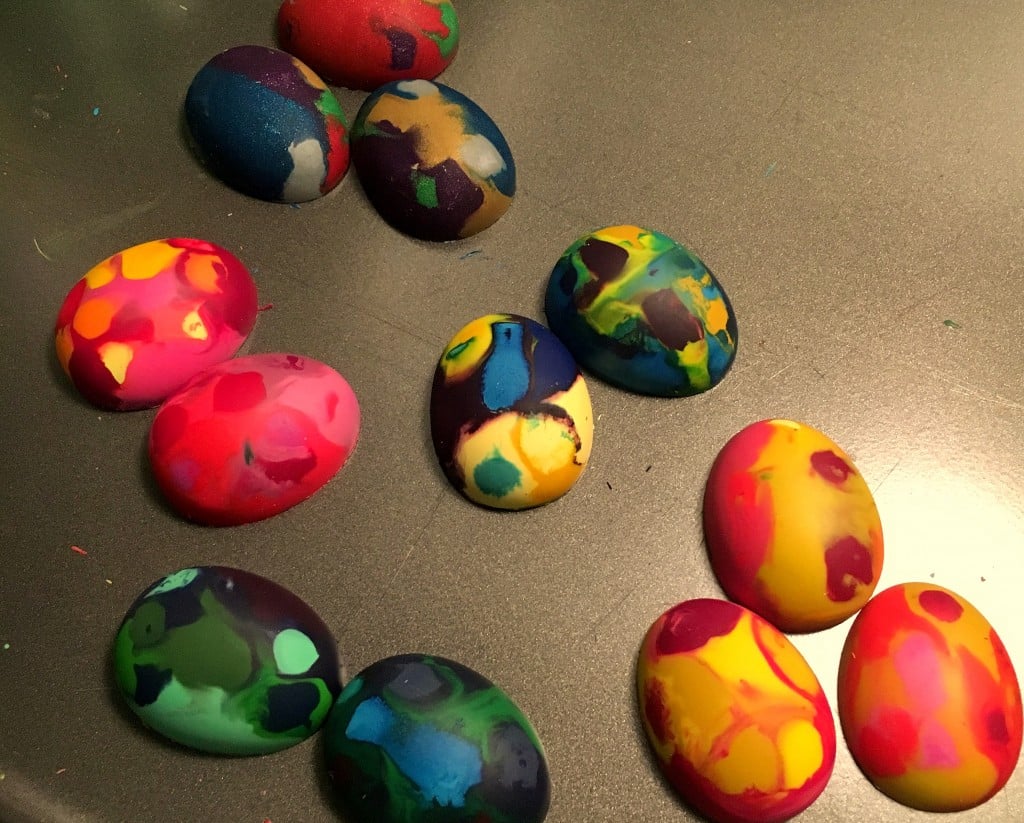 Easter is just around the corner and spring is already here. The Easter holiday is known for the Easter Egg and the mix of beautiful colors that mark the day. The mix of the vibrant colors of spring and the celebratory nature of Easter makes for a happy season. Today we're combining these fun colors and the Easter Egg to create DIY Crayon Eggs! These egg shaped crayons are great because they decrease choking hazards (from tiny crayon pieces) plus you get multiple colors in one crayon – and the egg shape makes them perfect for the Easter season!
Materials:
Crayons
Silicone mold
Cookie sheet
Plastic cups or bowls
How-To:
Separate the crayons by colors – use all or some depending on your favorite color choice.
Remove the wrappers from the crayons. An X-Acto knife works well to remove the wrappers from the somewhat sticky wax crayon. Use caution as it is easy to cut fingers (this is absolutely NOT a step for children). Use the knife lengthwise along the wrapper binding of the crayon and the wrapper should easily come off.
Next, break the crayons into pieces – small enough to fit into the molds, but not too small. If the pieces are too small, there will be no major color differences in your crayons. Break each crayon into 3 or 4 pieces. I organized broken pieces in plastic cups to mix them.
Preheat the oven to 275 degrees. Place the mold on a cookie sheet for easier handling. Stack the crayons a bit higher than the top of the mold because they will melt down. If you don't over fill the mold, the melted crayons won't fill up the entire mold space and the final product will be smaller than it could be.
Bake the crayons for 15 minutes. Be sure all the crayons are melted completely before removing from the oven and immediately use a toothpick to eliminate any air bubbles on the top of the crayons.
Allow the crayons to cool for 15 minutes. Place the mold in the freezer for an hour just to be sure they have hardened. Remove them from the mold and you are ready to color – Happy Coloring!