Diapers and Driver's Ed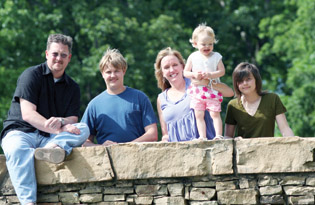 It isn't unusual to see moms in their late 30s and early 40s sporting a baby bump, while cheering on older child's athletic endeavors. Families raising children with large age gaps between siblings often have one foot in teenage tirades and simultaneously are taking baby steps with the other.
Kim Buccino, of Clemmons, is a busy mom. She and her husband, Michael, are raising a 17-year old daughter and 13-year old son. Buccino's car is the family taxi shuttling daughter Tai and son Zavier to sports practice, school and other activities. She also is in school earning her second degree. Michael is a police officer and works a hectic schedule often leaving Kim to juggle family duties by herself. All of this, and the 40-year-old mom has a 2-year-old son, Giovanni.
Lori Eskridge also has three children: Andy Szoke,17, Holly Szoke, 15, and nearly 4-year-old Sara Eskridge. The 43-year-old Charlotte mom says she and her husband, Lee, are looking at playground equipment one day and the next checking out college campuses.
With her oldest and youngest 14 years apart, Eskridge says she's had a few surreal moments. "When she (Sara) goes to kindergarten in August 2012, Andy will be going to college. It's so strange to be checking out an elementary school, when it's been well over a decade since I've been through this."
Playing the Numbers
The "why's" behind families who have large age gaps between children are as numerous as the moms and dads heading them up. Careers, divorce and remarriage, secondary infertility and adoption are just a few of the reasons why families choose to "start all over again" long after cribs and baby clothes have been put away.
Both Buccino and Eskridge's teenage children are from previous marriages, and their interest in having another baby was renewed after marrying their current husbands. Women who get pregnant later in life often face challenges they didn't experience the first time around. Depending on the mother's age and health, there is an increased chance of losing the baby during pregnancy or having a child with special needs. Women in their later reproductive years also have an increased chance of experiencing high blood pressure and gestational diabetes during pregnancy, says Dr. Spyro Vulgaropulos of Triangle OB-GYN in Raleigh.
Having a baby later in life often becomes a numbers game, he says. "There are very specific numbers attached to ages."
But the mom's physical shape has a lot to do with how she feels during and after pregnancy. "Some 40-year-old women are in better shape than 25-year-old women," says Vulgaropulos. He advises couples looking to add to their family later in life to make a preconception visit to their doctor, especially if the mother is on any medication.
Buccino says she noticed a difference after delivering her third child at age 40, more than 10 years after her last birth. "Recovery from the delivery was a lot slower than it had been with the other two," she says. And if secondary infertility — defined as a couple who has successfully had children in the past, but is unable to achieve pregnancy after trying to conceive for a year — is preventing a couple from conceiving, doctors often will often be quicker to start diagnosing and treating the problem, he adds.
Louise and Greg Bannon struggled to conceive again after the birth of their son, Darius. When Darius was in middle school, the Bannons decided to adopt.
"While we went over the infertility tests and option rollercoaster for some time, we finally asked ourselves, 'What matters more – biology or providing love to a child, any child, regardless of biology?'" says Louise Bannon. Darius, 13, welcomed home his little brother, Bryce, last September.
Preparing Older Children
For the Buccinos, the birth of Giovanni was a family affair. Daughter Tai was in the delivery room with her mom, and son Zavier came in soon after his little brother entered the world.
Siblings who are close in age often can't remember life before the new brother or sister. This is obviously not the case as the age gaps widens. Carefully preparing children for the new addition to the household can go a long way in success says Dr. Tracey Marks, a Duke-educated psychiatrist, psychotherapist and author of "Master Your Sleep: Proven Methods Simplified."
Marks, who practices in Atlanta, recommends, "Have a talk with your child ahead of time to see how he or she feels about the new sibling. It's important to get a feel for what your older child expects, hopes for or fears around the new baby.
The Bannons included Darius in just about every aspect of the adoption process. "As old as he is, I didn't want this to just happen to Darius," says Bannon. "I wanted him to be part of this process." The family attended all the adoption classes together and fulfilled the process requirement together as a threesome.
Bannon says she is proud of the way Darius has adjusted to the arrival of his brother Bryce, especially after being an only child for 12-1/2 years … although there have been challenges.
"He got accustomed to having things his way — having robust holiday celebrations, with lots of gifts and being showered with all the attention all the time," says Bannon. "Now, this is definitely not the case, and it has taken him time to adjust."
The Bannons are very open with one other, and Darius has the freedom to let his parents know when he needs some time either by himself or with his parents. Louise and Greg continue to be involved and supportive of Darius and sensitive to where he is in his development.
Shortly after Bryce came home, the family took their baby to his older brother's football game. "It was important for my husband and I to both go to Darius' football games and show him — not just tell him — that he still is important to us," says Bannon.
Buccino says her teenage children have adjusted well, and are very involved with Giovanni. "They don't mind helping out with him," says Buccino, who adds Tai is the nurturer and Zavier loves to play and read to his baby brother.
Both parents try to carve out time for everyone. "We've had to make sure we've extended more patience, more hands-on time and more one-on-one time," she says. This is especially necessary for Zavier, who, with the addition of Giovanni, went from being the baby of the family to the middle child. With no extended family in town, everyone pulls together to make it work.
Parents also should consider how much they want, or don't want, to ask their teen(s) to watch the younger child. Having a baby-gap baby doesn't necessarily mean a built-in babysitter.
Giving special attention to older siblings, and remembering teens should be growing more independent, goes a long way to creating family harmony, says Marks. "Make sure you don't put so much emphasis on the new baby that you neglect time with the older child," she says. "He or she still needs your time and attention."
Unexpected Gifts
In parenthood, juggling is a top job requirement, and the wider age gap between children poses its own set of hurdles. "It has been more challenging than I expected," admits Buccino, who says mornings in her house can get a little hectic.
Being there for both boys, as well as those important — and very different — life stages can be tough, she adds. On one side is the critical early-childhood learning and developmental stage with teething and mobility milestones. On the other is "an incredibly active and athletic hormonal, moody and temperamental teenager, who sometimes pushes the limits."
But parenting the second time around usually brings with it calmness and a perspective first-time parents just don't have. And for those who find themselves back into bottles and onsies after a long hiatus, there also can be wonderful and unexpected gifts for the entire family.
"There were quite a few things I missed the first time around, because I was making sure everything was 'right,'" says Buccino. She explains the birth of Giovanni sparked a renewed interest and excitement for the entire family. They all were proud of Giovanni's milestones, and holidays began to take on a more important meaning with a baby in the house. "All that holiday fun and excitement you share with the little ones wasn't there anymore (with teens)," she says. "(The baby) brought such a joy to the house, that the older kids got caught up in the activities."
Bannon also is enjoying being a mom to a toddler once again, and she is holding on to every moment. "Looking back, I feel like (the first baby) was a whirlwind of moments and exhaustion," she says. "With Bryce, we've taken our time a bit more to remember, document moments and take photos."
Courtney McLaughlin is a Charlotte freelance writer and editor, and the mother of 5-year old Isabella.