Developing More Awareness of Geography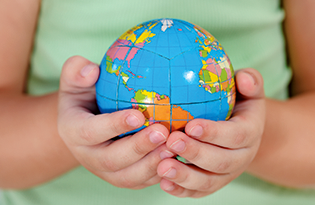 Geography Awareness Week is Nov. 17-23. It was established 26 years ago to encourage citizens young and old to learn about the interconnectedness of the world. Many of today's schools do not focus on teaching geography, so this week is a good week for parents to start taking up the slack and help their children learn more about the subject.
A wide array of activities, events and volunteer opportunities to participate in with children can be found on geographyawarenessweek.org. The most appealing aspects of this site are the missions that help you and your children explore your own communities, looking at them through geographic activities.
Some intriguing missions from last year include making a "smell" map of your neighborhood, living on a budget of only $1.25 a day, watching sunrise at sunset and keeping a ship's log for five days. Completing different missions enables your children to earn skill badges.
The videos on this website are another educational aspect that will increase your children's knowledge of geography on such topics as earthquakes, tsunamis and the wildest weather in the solar system. Kids will also enjoy the cartoons.
Use this week and subsequent weeks to learn more about geography and have fun together completing the missions.
Peggy Gisler and Marge Eberts are experienced teachers who have more than 60 publications to their credit.