Designing a Man Cave for Dad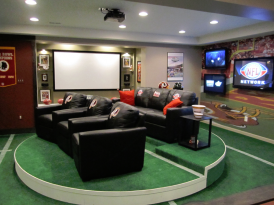 Did you know that 54% of all respondents to a Marketwatch.com study report that they have a man cave? Real estate agents also report that having a man cave in the home has become a strong selling point. If you have a man in your life that is feeling left out of the man cave craze, this post will help guide you through the steps to designing a great man cave for him. Here are 8 steps to creating the perfect man cave:
Location – Privacy and seclusion are important aspects of the man cave, which is why they are often found in basements, garages, and bonus rooms. Recently, backyard sheds and even storage units have stepped up to the plate as viable locations for a man cave.
Theme – Each man cave is as individual as the man it is designed for. A good place to start for picking a theme is deciding what the man's favorite sport or hobby is. This offers inspiration for both the color scheme and the decorative items you'd use to finsih off the design.
Space Planning – Before making any improvements or purchases make sure to measure the space carefully so you know what exactly you can fit in the area. No need to purchase a pool table if your pool cue is going to be banging into the wall with every stroke, no matter how much the guy loves to shoot pool!
Walls – The walls provide the largest space for decorating, so generally the paint color will be selected to establish the theme. Deep, rich colors evoke a cave feeling, but bright colors representing a sports team may be more desirable, depending on your theme.
Flooring – Wall to wall carpeting is cozy and comfortable underfoot, especially when the man cave is on a basement slab of cement. However, if drinking is involved, you might want to select flooring that will be lower maintenence and easier to clean, such as tile or vinyl.
Furniture – Always purchase the highest quality furnture you can afford since it will end up costing you less money in the long run. Leather sofas and chairs are perennial favorites for man caves, but the new Stain Free Furniture by Sensibly Chic is a fantastic option.
Window Treatments – Wood blinds and plantation shutters are the most masculine options for window treatments. If your man cave is meant for movie viewing you'll have to go with room darkening shades to make the room completely dark for the ultimate home theater experience.
Accessories – This is the fun part that lets you bring the room's theme to life. 84% of men surveyed said the TV is the most important element of the man cave so you won't want to skip, I have decorated man caves that had as many as 6 TVs in it so several different footballgames could be watched simultaneously!
Have you created a man cave in your home? Please share your tips in the comments section below.
Barbara Green is the owner of Sensibly Chic Designs for Life and the host of Ask the Design Diva radio show. She believes you CAN have it all: kids, pets, and a beautiful home. Her showroom is located at 830 Lamar Avenue and is open by appointment only. Mention Charlotte Parent when you call 704-608-9424 to schedule your consultation and receive your first 30 minutes free!