Decorating with Motivational Quotes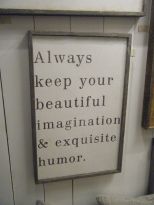 Anyone who knows me personally or follows me through social media channels know that I am a positive thinker. I make a concerted effort to eliminate negative people and things from my life. I love to surround myself with reminders of the good in the world. If you would like to create a positive atmosphere in your home, I've got lots of beautiful options for you. 
Motivational quotes are great to hang on the wall as a daily reminder to stay the course you have selected for your life. One of my favorite companies to get these inspirational pieces is from Sugarboo Designs. They have hundreds of adorable designs that would be perfect for kids rooms and also more elegant pieces for the more sophisticated among us. 
Another home accent you can use for inspiration are pillows. These are quick and easy additions to any room. You can toss them on your bed, your sofa, or a chair.These pillows are favorites of mine not only because of their message but because of their sparkles!
Do you have any favorite quotes decorating your home? Please share your inspiration with us!
Barbara Green is the owner of Sensibly Chic Designs for LIfe located at 830 Lamar Avenue and the host of Ask the Design Diva radio show. She believes you Can have it all: kids, pets, and a beautiful home!