Decorate Your Post-Holiday House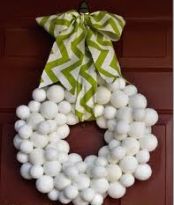 Does your home feel naked after the holiday decorations come down? Even though we don't see a lot of snow in these parts, it is still fun for the kids to make your home a "Winter Wonderland" during the month of January. Start at your front door by crafting this simple wreath out of styrofoam balls. I like to coat mine with glue and roll in glitter before attaching them to the wreath form. Glitter… is anyone out there surprised by that? You know glitter is my favorite color!
Another simple decoration can be created from the dollar store and a walk in the yard. Using simple glass cylinders or rectangular vases, fill one-third to one-half full with epsom salts. Then gather some bare branches that have fallen to the ground and simple stick them in the empsom salts. Arrange a collection of these on your mantle or dining room table for a little bit of winter wherever you'd like. 
Epsom salt is my go-to ingredient for the next decoration, too: snowy candles. Using a sponge brush (another dollar store find) simply brush white glue all over the sides of the candle and roll in epsom salt. Now you have snowy candles to add to your wintery decor. If you pick up a couple of extra glass cylinders at the dollar store they make a safe house for the candles to prevent little fingers from being burned by the flame.
How do you cure the decorating doldrums in January? We'd love for you to share your ideas!
Barbara Green is the owner of Sensibly Chic Designs for Life, located at 830 Lamar Avenue in Charlotte and the host of Ask the Design Diva. She beleives you CAN have it all: kids, pets, and a beautiful home.