Decking the Halls for Thanksgivukkah!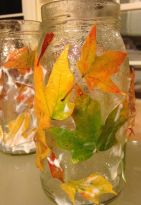 Now that Halloween is over and it's finally chilly enough to think about winter, we're looking ahead to a season of celebrations. Next up is the once-in-a-lifetime collision of Thanksgiving and Hannukah-Thanksgivukkah!
This might justify a deep fried turkey, but I digress.
Anyway, this little project has been turning up all over lately, and it reminded me of how much I love mod podge. It also seemed to be a nice way to bring some of the light of Hannukah into a Thanksgiving centerpiece.
You'll need a few things:
Fresh leaves. Go for pretty colors and relatively small leaves that aren't too stiff.
Mod Podge. The real stuff, easy to find at any craft store or Target or Walmart.
A paintbrush to apply the Mod Podge.
Empty glass jars
The first step is to remove the labels from the jars. There are lots of theories about how to best do this, but so far I haven't found a way that doesn't require some elbow grease. We ran them through the dishwasher, which heated and soaked the labels, and then scrubbed.  If you find an easier way please leave a comment and let me know!
Next, brush the Mod Podge on the jar and stick the leaves on, brushing an extra layer of Mod Podge on the outside of the leaf. Small, flexible leaves work well, and torn up pieces of leaves work even better. We removed the stems from some of the leaves to help them bend to the shape of the jar. Ours didn't lie flat like the ones in the original tutorial, but it didn't matter. The Mod Podge held them on and gave them that glossy finish that makes everything look intentional and perfect.
You can cover the whole jar, overlap the leaves, or leave open spaces in between.
Wait for the glue to dry, drop in a votive candle, and voila! Happy Thanksgivukkah!
Want more Mess? Visit Melanie's blog, or drop by her Etsy store, Made by Mommy!