Decals: Decor Made Easy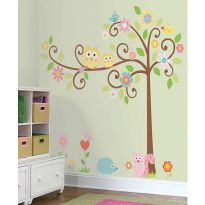 Hooray for progress! It used to be that you selected a room theme for your child and you had to live with it for a long time since it was either too costly or time consuming to change. Those days are gone! If you start with a neutral base paint color, the sky is the limit to how many times you can change it easily and affordably with the use of stick-on wall decals. This tree is adorable for a baby's nursery, and if a muralist painted it on you'de probably feel obligated to keep it far beyond it's welcome. Since it was a decal, though, it can be easily removed whenever the mood strikes. 
Another instance where the decals are great is when you have a nursery personalized with your first child's name, only to be welcoming a second child along. If child number two is taking over the nursery it is simple to pull the name off and pass on the rest of the design. Since most of the decals are repositionable, child number one can probably just bring his name to his new room along with the rest of his things. 
Even if your child is staying in the same room, there may come a time when the decal feels too juvenile, and then you can peel it off and add a newer, more sophisticated decal to the room. 
Even Mom and Dad can get into the decal act. There are lots of beautiful sayings that can be applied to walls in the kitchen, living room, family room, and bathroom. One of the most popular ones with spouses is the one to the right. It is a lovely sentiment to start and end your day and an outstanding example to set for your children. 
Are you using decals in your home? Which one is your favorite? I'd love to know!
Barbara Green is the owner of Sensibly Chic Designs for Life located at 830 Lamar Avenue in Charlotte, NC and host of Ask the Design Diva radio show. She believes you can have it all: kids, pets, and a beautiful home.