Dating With Children: Part 2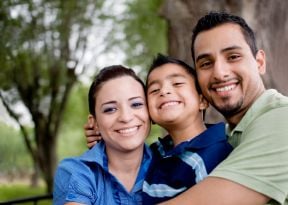 The dating scene from a single parent's perspective was explored in Part 1,  emphasizing it is vital for a single parent to work on his or her own personal growth before considering a serious dating relationship. Once you've grown to the point when you are ready to share your life with another person, you will have to face some obstacles that are unique to the single-parent dating experience. These obstacles have to do with your children.
Fear of Loss, Jealousy
When to introduce your children to your new dating partner has a common- sense answer that, too often, is ignored. Children who have experienced the death of one parent, or a divorce, will be sensitive to "losing" another significant person in their lives. Don't be surprised if they keep their distance for a long time after you've made the initial introduction; their natural defenses to not get involved, for fear of being hurt by another loss, will be very strong. Obviously, if you get your children involved with your new partner, who suddenly drops out of the picture in a month or two, your children's sense of trust may be compromised. Be sensitive to their defenses and don't rush introductions until you're serious about the relationship.
Children also are prone to express jealousy toward your new relationship when they feel the threat of losing you to someone else. Having already lost one parent, they can have a difficult time dealing with the thought of losing you to someone else.
When the kids become overly protective, express disapproval of your new dating life, or misbehave to get back at you for making dating choices, don't retaliate with anger or stop dating to appease them. Instead, listen to what they have to say. Continually assure them you will not make a permanent decision about bringing someone new into your lives unless you feel it will be good for everyone.  Ask them to trust you and be especially loving toward them during this time.
Intimacy and Marriage
It's easy to want to spend every waking hour with someone when you fall head over heels in love, but keep a clear mind. Create some distance between you and your new partner by blocking time to spend alone with your kids. This will give you a chance to take a step back and examine the new relationship and give the children time to get used to the changes taking place. It also can clue you in to the reaction your new partner will have as you place a priority on your parenting responsibilities.
A good rule of thumb is to keep your dating life separate from your family life at least until after you have had a chance to test the relationship yourself.  When both you and your partner feel comfortable you have a long-term future, make the introductions, but don't expect your children and your new friend to begin doing a number of activities together. Let the relationships unfold naturally. If you truly want to foster a successful blended family, your example of patience and respect toward one another in a horizontal relationship should set the tone for the vertical relationships you expect between step-parents and children.
In front of the kids, keep the relationship at arms length — an overnight stay when the children are at home is not a good idea, as it will cause tension and will appear to the children that you are trying to force a "new family" concept on them. Save kissing and touching for when the kids are not around.
When you begin to talk more seriously with your partner about marriage, then it is appropriate to take the relationship between your partner and your children to a new level of closeness. You might want to have a sit-down discussion with everyone to talk about the possibilities of blending the family and spending more time together.
Allow your kids to express their feelings about the relationship, and encourage them to be patient with your partner, just as your partner is willing to be patient with them. Remember, you were their parent before you were this person's date. Expect some awkwardness, allow for strong feelings, and don't rush the future.
Before you decide to bond your life with another person, think through what it is you owe your children and what you owe yourself. You owe your children a harmonious environment in which they are loved and accepted, not just tolerated. You owe yourself the chance to be happy and experience a healthy, loving relationship. If your new partner brings the kind of quality to your life that fulfills these needs, you can feel comfortable you are on the right track.
Part 1 of Dating With Children appeared in the Single Parent column in the February issue. Go to www.charlotteparent.com/articles.
Diane Chambers Shearer is a licensed marriage and family therapist, divorce mediator, and parent educator in Atlanta. She is author of "Solo Parenting: Raising Strong and Happy Families" (Fairview Press, 1997) and publishes The Peaceful Co-Parent, a quarterly newsletter for divorce parents. Visit www.dianeshearer.com.