Dad's Day Recipe: Citrus-Cured Chicken Breast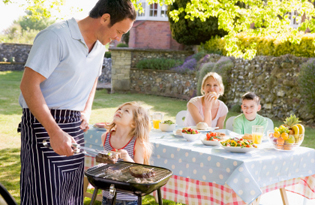 Boneless, skinless chicken breast is quasi-convenient – and entirely flavorless. But this easy marinade will take it where it needs to go. You can serve this all by itself, on a sandwich, chopped up and tossed with tomato sauce and penne pasta, or in a salad. Ideally you should marinate the chicken for at least several hours, but even an hour-long bath in sweet orange, sour lime and zippy lemon will elevate this proletarian protein to another level.
Citrus-Cured Chicken
Make 4 servings
2 oranges
1 lemon
1 lime
Large zipper-top plastic bag
Salt
Freshly ground pepper
Olive oil
2 chicken breast halves, each sliced lengthwise into two cutlets, giving you four pieces total
Squeeze all the citrus into the plastic bag and throw in a big pinch of salt and the same of pepper. Add a couple tablespoons of olive oil and the chikcen. Let marinate for at least six hours or overnight.
Preheat the grill (or grill pan) to medium-high. Grill the chicken on both sides until it's done, about five minutes on each side.
Excerpted from The Gastrokid Cookbook. For more recipes that are kid-tested and approved, go to Gastrokid.com.