D.I.Y. Skeleton Halloween Costume
Easy-to-follow instructions to make a Skeleton Halloween costume for less than $20.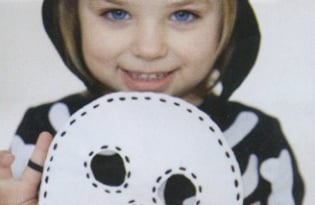 You will need:
– 32-by-18 inches (80-by-45 centimeters) thick white felt
– Fabric glue
– Black long-sleeved top and leggings
– Scrap paper
– 16in (40 centimeters) elastic 1/4-inch (5 millimeters) wide
– Black embroider floss and needle
– Black gloves and shoes (optional – to complete costume)
For patterns and more detailed instructions, pick up the book "Cute and Easy Costumes for Kids: 35 Fun Dressing Up Ideas for Children" by Emma Hardy (CICO Books, July 2010, $19.95), which features 35 ideas for easy-to-make Halloween costumes.
1 Using pattern pieces 63-68, cut out all the skeleton bone pieces from white felt using the photographs opposite as your guide.
2 Glue the felt shapes onto the black clothing, slipping scrap paper inside the top and leggings so that glue does not soak through all the layers. Press the felt shapes down firmly so that they are well struck.
3 Using pattern piece 62, cut out two mask shapes from felt. Pin one end of the piece of elastic onto each side of one mask shape. Check that it will fit your child, then stitch.
4 Place the second mask shape on the first, sandwiching the ends of the elastic in between. Using the floss, sew them together with running stitch around the edges. Also embroider a mouth using running stitch and cross stitch, finishing with a knot on the wrong side. Sew running stitch around the holes for the eyes and nose.