Cutting Your Own Tree: An Old-Fashioned Family Tradition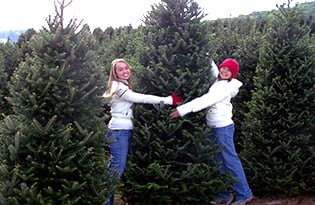 Before pre-lit artificial trees and tinsel existed, families bundled up for a trek the woods to find the perfect Christmas tree to bring home and adorn with handmade ornaments. Modern times make it easy to go to the lot on the corner and pick out a tree, but there's something about strolling along a mountain hillside on a brisk December day that makes picking a Christmas tree as a family even more perfect.
North Carolina ranks second in the USA for Christmas tree production, there's no shortage of tree farms to explore throughout the North Carolina mountains. Watauga County is home to the Appalachian Mountaineers, and also more than 25 Christmas tree farms. My family makes the trek to Boone to Brown's Choose and Cut each year. Our son loves running through the groves zig-zagging in and out of the trees. The farm has a horse-drawn sled to pull your chosen tree back to your car for loading, and as a fun ride for kids and adults.
Panoramic View Christmas Tree Farm, also in Boone, offers free hay and horse rides, and this year has newborn calves to feed and pet. Many farms have donkeys or other farm animals that children can see up close and some that they can pet. Working tractors and other farm equipment raise curiosity in little ones as well. And if there's snow, some farms, including What Fir Tree Farm and Longview Farm in Boone offer snow-sledding experiences, as well as hayrides, hiking trails, a gift shop with locally made crafts, and a chance to share holiday wish lists with Santa.
The great thing about all the farms is the holiday hospitality. Most are family-run farms, which means family members work the farm during the season. Don't be surprised if farm owners' children, nephews, nieces and cousins warmly greet you. Many of the tree farms offer hot chocolate or apple cider to add to the sensory experience of hiking the hills and taking in the panoramic views of the Blue Ridge Mountains. Most farms sell fresh wreaths and garland made on-site or offer the opportunity for patrons to make their own wreaths or natural ornaments.
It's a casual experience, nothing fancy, just good-hearted person-to-person seasonal greetings. Dress warm, wear shoes meant for hiking hillsides and enjoy a day away in the N.C. mountains.
SEE ALSO: The Full List of N.C. Christmas Tree Farms
A trip to choose and cut a tree can be a one-day affair, or turn it into a weekend getaway. If traveling to Watauga or Avery counties, take a detour at a nearby ski slope. Ski and snowboard at Appalachian Ski Mountain and Beech Mountain Resort, and add snow tubing to the snowy fun at Sugar Mountain Resort. Plus Sugar Mountain boasts the new Gunther's Way slope, a 3,000-foot slope up to 150-feet wide that drops 700 vertical feet.