Creating A Successful Study Space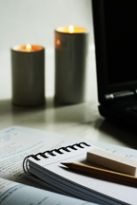 The best way for students to knock out an effective study session is in the comfort of their own personalized study space. But don't let the kids get too comfortable – to create the perfect workspace at home, there are a few things to consider.
Think about who your kids are in terms of their personality and preferences. Is absolute quiet a must, or does some background noises help them concentrate? How easily are they distracted?
After deciding what environment enables them to stay on task, identify where in the house they will get their best work done. The bedroom or upstairs playroom may provide too many temptations (toys, television, Xbox, etc.), but the kitchen table may be in the middle of Household Center and there might be too many distractions. Consider using the dining table or Dad's study. Be sure the study space is well-lit and temperature-controlled – not too drafty and cold, and not too warm and stuffy.
In addition to a sturdy desk for homework and writing, students may want a comfortable chair for reading. Be sure they can sit in it for a while without the temptation to take a snooze. Ample lighting – including a good desk light – is important.
Also provide all the materials and resources students need: pencils, pens, highlighters and paper, as well as a calculator, dictionary and thesaurus. If the kitchen or dining room table is used, get a rolling plastic storage bin for all the study supplies.
When a good space is secured, allow kids to make it theirs. Have them think about how they want to stay organized, using drawers, shelves or storage bins. Hang up a bulletin board and/or a wall calendar to help them stay on top of homework and project due dates. Time management is crucial to a healthy work ethic.
A list of their classmates' phone numbers or e-mail addresses also might be helpful, in case they have questions about an assignment. (Consider shortening the list to include only the kids with the best grades!) A few colorful decorations will add some fun and inspiration to a study space. Artwork, posters (especially those with motivational messages) and pictures will add a welcoming feel and make studying easier.
Finally, realize it will take time for your kids to get comfortable and set up a routine for studying. Be sure they schedule a specific time every day to do homework, review class work and study for upcoming quizzes and tests … and stick to it! Remember, it takes 21 days to make something become a habit, so encourage kids to keep using their study space on a regular schedule and, eventually, it will come naturally to them.