Creating a Bedroom Getaway for Parents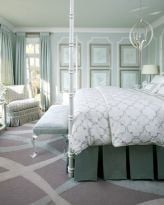 Every now and then parents need some time away from the kids to restore their piece of mind. It doesn't mean your kids are bad, or that you're a bad parent, it simply means that you are human. Parenting is the most difficult job in the world and it can wear down even the most hardy of stock. This week's blog encourages you to create a master bedroom getaway, a sanctuary from the chaotic life that usually come with having kids. To create your great escape, ask yourself the following questions:
Where do I want to escape to? Do you love the mountains or is a beach getaway your preference? Perhaps it is a wine tour of Tuscany? Use this to determine the theme for your decor and base your color scheme appropriately.
What do I want to do? Do you need to get away from the kids and just catch up on some sleep, or would you prefer losing yourself in a novel? Drinking a glass (or bottle) of wine is always an option, too. Plan the room's furnishings according to the functions you desire for the room. 
How do I create this atmosphere? – Painting the walls would be the first step to transform your getaway. Another option, if your dream getaway is particularly scenic, would be hanging a mural on one wall. MuralsYourWay.com is one of my favorite sources online for this. Next invest in the highest quality bedding your budget will allow. Nothing is more refreshing than a restful night's sleep in a luxurious bed. You'll also want to  provide sources for task, ambient, and accent lighting, and put all on dimmers. Accessorize with statement pieces which support your selected theme. Remember not to clutter, because that is counter productive to the calm you are trying to create.
What other details do I want? You will probably want to include a method for playing music in the room, whether it be an iPod adapter or a CD player. This will enable you to tune into your favorite sounds and tune out the craziness beyond your bedroom door. Some may find escape in a good movie, so a TV and DVD player would be in order for that bedroom. Many parents are now including mini-bars in their master bedroom getaway so they won't even have to leave the room to get a drink or a snack.
Why do I need a parent getaway? The first reason is because it is good for your child to learn to function without his or her parents around. They need to learn how to develop their independence, even if only for an hour or two. Second, it benefits you because it releases you from the constant pressure that having kids around presents. Lastly, since "absence makes the heart grow fonder," your time of seclusion will rejuvenate your mindset and once again have you looking forward to spending time with your kids.
The master bedroom is a very intimate space. Make sure it reflects your personality and functions according to your lifestyle. I hope you'll take the time to make yours special. Have fun and relax!
Barbara Green believes you can have it all: kids, pets and a beautiful home. She is the owner of Sensibly Chic Designs for Life and the host of Ask the Design Diva radio show, and insists you don't have to spend a million dollars to look like you did.