Create a Command Center at Home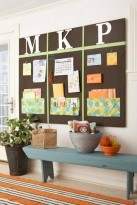 One thing every parent complains about is the amount of papers that float around after the kids go back to school. It can be hard to keep track of everything unless you have an easy to use system. My friend, Lynda Quintero Davids, owner of Focal Point Styling in Phoenix, Arizona shared this great family organization station on Pinterest and Facebook and I was so enamored with it I asked her permission to share it with all of you.
After further investigation I located several other styles of "Family Command Centers" on Pinterest, each with its own unique look and design. I love the variety of products incorporated with this command center. I also love the use of sheet metal that has been simply framed to post notes and also serve as a dry erase board. You've got areas to organize your calendar, your mail, your menu, and just about anything else you need to keep organized. 
What I like about this command center is how it makes great use of what would have been a useless wall. Painting it with chalkboard paint adds to the functionality of it, while neatly displaying the calendar, schedules, and even including some motivational quotes at the top. 
The final command center is for those who aren't as creative at putting systems together because these are all pieces that are purchased at your local big box or office supply store and the only thing you need to do is hang them up. Pick whichever elements will serve your family's needs and leave the other pieces behind. 
What tricks do you have that help keep your family organized? Please share them in the comments section, below!
Barbara Green is the owner of Sensibly Chic Designs for Life and the host of Ask the Design Diva radio show. She believes you CAN have it all: kids, pets, and a beautiful home. Visit her at her shop, located at
830 Lamar Avenue in Charlotte or give her a call at 704-608-9424.