Cranberry Popcorn Recipes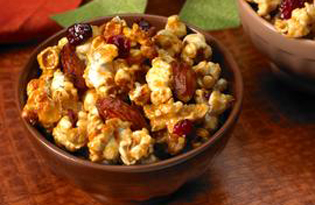 Cranberry-Orange Caramel Corn
Yield: 10 cups
Ingredients
10 cups popped popcorn
1 cup dried cranberries
1/2 cup whole almonds
1/2 cup (1 stick) butter
1/2 packed brown sugar
1/4 cup corn syrup
2 tablespoons frozen orange juice concentrate, undiluted
1 teaspoon orange or vanilla extract
1/2 teaspoon baking soda
Directions
1. Preheat oven to 300 degrees F. Place popcorn, cranberries and almonds in a large bowl; set aside.
2. In a medium saucepan heat butter, brown sugar, corn syrup and orange juice concentrate over medium heat until butter is melted. Bring to a boil and boil 2 minutes. Remove from heat. Stir in extract and baking soda (mixture will foam).
3. Pour syrup mixture over popcorn mixture in bowl; stir to coat well. Spread evenly in a large, rimmed baking sheet or roasting pan, lined with foil and sprayed with nonstick spray. Bake 30 minutes, stirring twice during baking time. Stir caramel corn as it cools on baking sheet. Store in an airtight container.
Cranberry Popcorn Balls
Yield: 18 balls
Ingredients
2 cups sugar
1 cup whole berry cranberry sauce, slightly mashed
1 tablespoon grated orange peel
1/2 cup cranberry juice
1/2 cup light corn syrup
1 teaspoon vinegar
1/2 teaspoon salt
5 quarts unsalted popped popcorn
Directions
1. Combine all ingredients, except popcorn, in a heavy saucepan.
2. Bring to a boil; lower heat and cook to 250 degrees Fahrenheit on a candy thermometer.
3. Mixture will bubble up in pan, so watch to keep from boiling over.
4. Pour slowly onto hot popcorn and mix until well-coated.
5. Let stand 5 minutes or until mixture can easily be formed into balls.
6. Butter hands and form into 3-inch balls.
?
?