Crafts for Kids: Valentine's Day Chandelier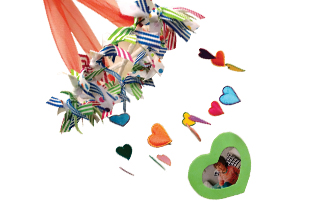 This Valentine's Day project can work for a variety of ages. Make one for the family by adding multiple photo hearts tied to the pipe cleaners, or let kids make their own to hang in their rooms.
Supplies:
12- or 14-inch embroidery hoop
Fishing line
12 or more small heart shapes (paper, craft foam, stickers)
Coordinating ribbon, lace or tulle
2 pipe cleaners
Craft foam
Child's photo(s)
Craft glue
Scissors
Directions: 
1. Cross the two pipe cleaners in the center of the embroidery hoop base so that they overlap in the middle of the circle and attach to opposite sides of the hoop. This creates a cross in the circle to attach a heart photo frame.
2. Tie ribbons in knots around circle base to help cover up the ring. The closer your ribbons are, the more ribbon you will need, but the fuller it will be.
3. Cut 12 pieces of fishing line to about 12 inches each, and attach a heart shape to the end of each.
4. Tie each tiny heart-string equally spaced around the hoop circle, hanging at about the same length. (Though don't worry if the hearts hang unevenly since that is part of this project's charm). Add more hearts if desired, either on separate lines, or use multiple hearts attaching down each piece of fishing line.
5. Cut a five-inch heart from craft foam. Glue a photo to front (and back if desired). Attach this to center of pipe cleaners where they cross the hoop circle and allow to hang down further than the tiny hearts on the outside of circle.
6. Tie two long lengths of ribbon, lace or tulle to opposite sides of the embroidery hoop to create a hanger for your chandelier.