Crafts for Kids | Valentine Mesh Wreath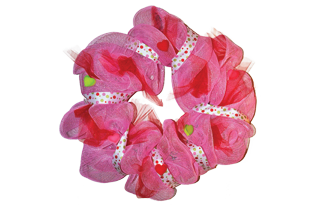 Create this simple wreath with your child. Hang on any door for a lovely way to celebrate Valentine's Day.
Supplies
21-inch roll of mesh ribbon in pink or red
16-inch wire wreath frame
8-10 pipe cleaners (then cut in half)
Scissors
Optional ribbon or other embellishments
NOTE: Since mesh ribbon tends to catch on other fabrics, it's best to wear short sleeves and use a smooth work surface for this project.
1.Bend each half pipe cleaner into a "V" shape and attach one to each cross bar section of the form on the outside row of wires, by twisting from back to front, leaving "arms" open.
2. Once you complete attaching these to the cross bars, attach the remaining pipe cleaners the same way to the inside wire between each cross bar.
3. Now gather the end of your mesh ribbon, pinch together and attach using one of the inside row of pipe cleaners. Poke raw end toward back of wreath to hide it.
4. After your initial point of attachment, gather another section of mesh a little further down, scrunch for a poof effect, pinch and attach at next inside row pipe cleaner. For a full wreath, you want to make sure you don't pull mesh tight and leave plenty of poof between attachments. Continue around form in this fashion, attaching to each inside pipe cleaner.
5. Once you complete the inside circle, you keep going (don't trim mesh yet) along the outer edge circle and work your way back around to fill in outside of wreath.
6. After completing outer circle, you may still have a little mesh left on the roll. You can either trim and keep for later, or do what I did. Wrap remaining mesh around wreath from outside to inside of circle to fill in any open spots or areas where wire form shows. Trim if necessary and poke end edge to back of wreath.
7. Use your hands to pull and shape your poofs into place as you wish.
8. Decorate as desired with ribbon, tulle and other embellishments.
— Renee Canada